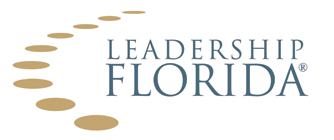 The Honorable Judge Rosemary Barkett was presented with the 2018 Leadership Florida® LeRoy Collins Lifetime Achievement Award today during the organization's Annual Meeting.  This award recognizes an individual who has gone above and beyond by using their leadership abilities to improve the quality of life for Florida's citizens and its future generations.  The award is in recognition of the impeccable standards Governor LeRoy Collins set for leadership in Florida, and in 1991 Leadership Florida renamed the Lifetime Achievement Award in his honor.
Judge Barkett is a pioneer, trailblazer and a powerful voice for women around the world.  Born in Mexico to parents of Syrian decent, Judge Barkett's service on the judiciary began in 1979 when then-Florida Governor Bob Graham appointed her as a state trial court judge.  In 1984, Governor Graham elevated her to serve as a state appellate court judge.  Soon after, she was appointed to Florida's Supreme Court in 1985, becoming the first woman to serve on the court.  On July 1, 1992, her colleagues selected her to become the court's first female Chief Justice.  In 1993, President Bill Clinton and the United States Court of Appeals nominated her for the Eleventh Circuit.  While serving on the Eleventh Circuit, she authored several landmark opinions in the areas of constitutional law; sexual harassment; disability rights; labor rights; privacy rights; rights of speech and association; and immigration.  She left the appeals court in 2013 to serve as a judge on the Iran-U.S. Claims Tribunal in the Netherlands, a position she still holds.
Not only has Judge Barkett had an incredible career, but she has also pursued her personal interests in education, as well as jurisprudence, serving on the faculty of Florida's Judicial College, the National Judicial College, The Institute of Judicial Administration's New Appellate Judge Seminar, the Aspen Institute's Justice and Society Seminars, and various other Appellate Judges Seminars and law courses.  She has taught seminars on constitutionalism, human rights and comparative constitutions at Columbia Law School.  She has lectured in Kuwait, Dubai, Qatar, Damascus, Turkey, Algeria, China, Haiti, Kyrgyzstan, Mexico, Russia, Egypt, Tunisia and Morocco on various substantive and procedural topics and on matters pertaining to court administration. She has served on the board of the American Bar Association's Rule of Law Initiative and chaired its Committee on the Middle East and North Africa Division.
Leadership Florida is proud to honor The Honorable Judge Rosemary Barkett with its 2018 LeRoy Collins Lifetime Achievement Award.
To download the acceptance video of Judge Barkett and find out more about Leadership Florida visit: leadershipflorida.org.
About Leadership Florida
For thirty-six years, Leadership Florida has developed a reputation as a builder of a stronger, diverse statewide sense of community. A respected non-partisan convener of committed individuals, Leadership Florida enhances the knowledge and leadership abilities of Florida's leaders through educational programs and by encouraging collaborative work for the betterment of our state. Leadership Florida provides Floridians essential information and a meaningful forum for their opinions, and creates opportunities for shared experiences that are inviting, inspiring and of lasting value. Leadership Florida is a federally registered trademark.