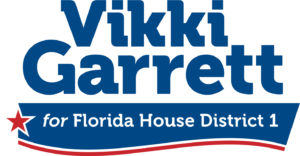 Vikki Garrett, democratic candidate for Florida House District 1, received the endorsement of the Florida American Federation of Labor and Congress of Industrial Organizations (FL AFL-CIO) during its statewide endorsing convention. The FL AFL-CIO endorsement adds to a growing list of individuals and organizations backing Garrett in the race for the open District 1 seat, which has no incumbent due to term limits.
Garrett's other endorsements include Knox Ross (R), Southern Rail Commissioner and former Mayor of Pelahatchie, MS, and Susan Smith (D), Atmore City Councilwoman and candidate for Alabama House District 66. These two endorsements come from Garrett's continued efforts in the restoration of passenger rail service along the Gulf Coast and from serving on the Gulf Coast Rail Service Working Group created by the Fixing America's Surface Transportation (FAST) Act.
The FL AFL-CIO represents over 500 local labor unions, 10 councils, and more than one million union members, retirees and their families statewide. The vote to endorse Garrett came at the recommendation of the organization's regional council, the Northwest Florida Federation of Labor, AFL-CIO Central Labor Council, which represents thousands of workers and their unions across District 1.
Upon receiving the endorsement, Garrett said, "I've been working hard to gain the support of organized labor since the very beginning of my campaign last year. As a native of District 1, I've seen the struggles of working families firsthand. The costs of supporting a family continue to rise faster than wages and, when that happens, it doesn't take long for a hardworking, middle-class family to slip into a financial hardship. I know what a difference the union made for our family as my father was a Teamster."
"Throughout history and still today, strong labor unions like the AFL-CIO have improved economic conditions and social outcomes for workers and their families," Garrett continued. "With their support, I will be a fierce and tireless advocate in Tallahassee on the issues that are most important to working families – better funding of public education, including teacher pay; access to quality and affordable healthcare; exploring alternative energy sources not just as a means of protecting our environment but also as an industry sector capable of providing new high-quality jobs; improving our transportation infrastructure and access to public transportation and passenger rail; and growing our economy."
Garrett looks forward to representing District 1 in Tallahassee where her priority is "Putting People First!"
For more information about Vikki Garrett and her campaign for Florida House District 1, please visit ElectVikkiGarrett.com.