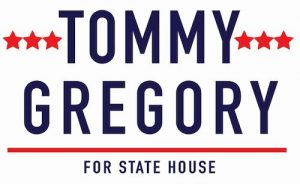 Both the National Rifle Association and Unified Sportsmen of Florida give Tommy
Gregory high marks for his commitment to protecting the Second Amendment. 
The Tommy Gregory Campaign today announced the endorsements of the National Rifle Association Political Victory Fund (NRA-PVF) and Unified Sportsmen of Florida. Gregory is running for the District 73 seat in the Florida House of Representatives, currently held by Joe Gruters, who is running for the Florida Senate.
"We sincerely appreciate your strong support of Second Amendment, self-defense, and anti-crime issues," said Marion Hammer, Past President of the NRA and Executive Director of Unified Sportsmen of Florida, in a letter to Gregory.
In addition to their endorsements, Gregory also earned high ratings from both organizations. He is A-rated by the NRA, and the Unified Sportsmen of Florida have given him a "Pro-Gun" rating.
"I am honored to have the support of both the NRA and the Unified Sportsmen of Florida," said Gregory. "Without question, protecting our Second Amendment right to keep and bear arms is vital. I look forward to partnering with both these groups to make sure Floridians are able to fully exercise their constitutionally-protected right to protect their families and their property."
Last week, Gregory added the endorsement of the Gulf Coast Business Exchange to his impressive list of endorsements from current and former elected officials. They include Sarasota County Property Appraiser Bill Furst; Sarasota County Commissioners Paul Caragiolo, Charles Hines, Alan Maio, and Michael Moran; Manatee County Commissioner Robin DiSabatino; former Manatee County Commissioners Donna Hayes and Jonathan Bruce; and former Sarasota County Commissioner Christine Robinson. Other recent endorsements include former U.S. Senator Connie Mack; Sarasota Sheriff Tom Knight; former Manatee Sheriff Brad Steube; former Manatee Sheriff Charlie Wells; State Representative Danny Burgess; and former State Senator Lisa Carlton.
Paid by Tommy Gregory, Republican, for State Representative