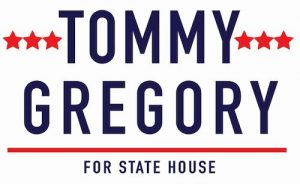 Tommy Gregory's momentum continues with the endorsement
of Florida's 12th Judicial Circuit Public Defender Larry Eger.
The Tommy Gregory Campaign today announced the endorsement of Larry Eger, Public Defender in Florida's 12th Judicial Circuit. Gregory is running for the District 73 seat in the Florida House of Representatives, currently held by Joe Gruters, who is running for the Florida Senate.
"Tommy Gregory is a strong leader and will make an excellent legislator," said Eger. "He has served his community and his country with honor and integrity and will take these values with him to Tallahassee."
After serving as an attorney in the office for 24 years, Eger was elected in 2008 as the Public Defender for the 12th Judicial District, which includes Sarasota, Manatee, and Desoto Counties, and was reelected in 2012. He serves as Vice Chair of the Jewish Children and Family Services, Co-Founder and past President of the Sarasota School of Arts and Science, Board Member of Legal Aid of Manasota, and Chair of the training committee for the Public Defenders Association of Florida.
"Larry Eger is the epitome of an outstanding public servant," said Gregory. "I'm honored to have his support, and I look forward to working with him to ensure that justice is done in Florida."
In addition to Eger, Gregory recently earned the support of Sarasota County Property Appraiser Bill Furst; Sarasota County Commissioners Paul Caragiolo, Charles Hines, Alan Maio, and Michael Moran; and Manatee County Commissioner Robin DiSabatino. He has also been endorsed by former U.S. Senator Connie Mack; Sarasota County Sheriff Tom Knight; former Manatee County Sheriff Brad Steube; former Manatee County Sheriff Charlie Wells; State Representative Danny Burgess; former State Senator Lisa Carlton; former Manatee County Commissioners Donna Hayes and Jonathan Bruce; and former Sarasota County Commissioner Christine Robinson.
The National Rifle Association and the Gulf Coast Builders Exchange have also endorsed Gregory.
Paid by Tommy Gregory, Republican, for State Representative