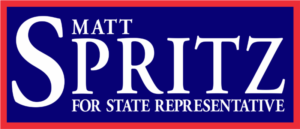 Spritz Continues to Gain Endorsements in HD89 Primary Election
Matt Spritz announced today that the Fraternal Order of Police endorsed his campaign for State Representative.
"Matt Spritz has shown an understanding of the needs of his community and we feel that he is the best choice of candidate to serve the citizens of Florida," said Robert Jenkins, President of Florida Fraternal Order of Police.
"I'm proud to receive the endorsement of the Fraternal Order of Police," said Spritz. "Our local law enforcement officers are some of the hardest working men and women in our community. I am inspired every day by their commitment to service and public safety, and I look forward to working closely with police organizations to help them keep our neighborhoods safe."
The Florida State Lodge Fraternal Order of Police represents 22,000 law enforcement officers and works to promote and foster the impartial enforcement of law and order, to improve the individual proficiency of their members in the performance of their duties and more firmly establish the confidence of the public in the service that is dedicated to the protection of life and property.
Born and raised in South Florida, Matt Spritz graduated Phi Beta Kappa with high honors from Emory University and from New York University School of Law in New York. He practiced corporate and business law in New York and later in South Florida before committing himself to public service in the Florida House.
House District 89 covers coastal portions of Palm Beach County spanning from Singer Island to Boca Raton, which has the largest concentration of voters. Thirty-six percent of registered voters in the district are Republicans, while Democrats make up 33 percent, and voters with minor or no party affiliation, 31 percent.
Paid by Matt Spritz, Republican, for State Representative.