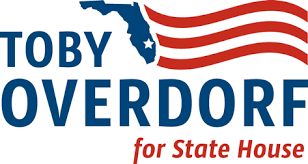 In case you missed it, Florida Realtors® PAC has endorsed Toby Overdorf in the race for House District 83. Overdorf, a Republican, is running to succeed Gayle Harrell, who faces term limits this year.
"The real estate industry is very important to Florida's economy," said Overdorf. "I'm honored to have the support of the Florida Realtors® PAC, and I look forward to working with them to make sure we put policies in place at the state level to keep our economy strong and moving forward."
Overdorf is a longtime Treasure Coast resident and business owner, running on a platform of pro-growth economic policies that promote job creation, greater economic prosperity, and the completion of necessary environmental restoration projects.
The Florida Realtors® list of candidate endorsements is below:
Florida Realtors PAC candidates for the Florida Senate:
District Candidate
25 Representative Gayle Harrell
Florida Realtors PAC candidates for the Florida House:
District Candidate
14 Paula Wright
15 Wyman Duggan
32 Shannon Elswick
72 Ray Pilon
81 Tina Polsky
83 Toby Overdorf
84 Kim Johnson
89 Matt Spritz
93 Chip LaMarca
98 Michael Gottlieb
103 Frank Mingo
109 Cedric McMinn
113 Deede Weithorn
115 Vance Aloupis
118 Anthony Rodriguez
119 Enrique Lopez
These endorsements are a follow up to the initial list of endorsements announced on July 9, 2018. That initial list, which includes member and leadership commentary, can be found here.