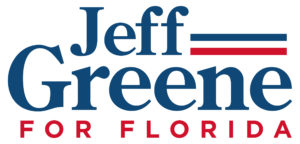 Democratic gubernatorial candidate and entrepreneur Jeff Greene issued the following statement in response to yesterday's comments from NRA lobbyist Marion Hammer:
"Marion Hammer isn't just a proud NRA member—she's their hired gun. As a father, I find it 'repulsive' that people like Marion defend the NRA over the lives of our children. She may not have pulled the trigger, but she has blood on her hands."
Below, you will find a copy of the original press release that prompted Marion's comments, as well as links to Greene's mailers.
---
Leading Democratic gubernatorial candidate and entrepreneur Jeff Greene dropped a new piece of election mail today, reinforcing his commitment to stand up to President Donald J. Trump and the National Rifle Association (NRA) to protect Florida's children and families.
The front of the mailer features a quote from Greene saying, "As a father, I won't stand by while the NRA turns our kids into targets." Under the message, voters see lockers in a school hallway with targets in the shape of students; 'AR Practice' and the NRA logo are found on the target boards.
"Students should be worried about grades, not guns," says Greene, a father of three young sons – Cameron (4), Brandon (6), and Malcom (8). "When I send my kids to school, I shouldn't be afraid they'll be killed in their classrooms. No parent should."
On the back of the same mail piece, Greene pledges to stand up to the NRA, Trump and Tallahassee Republicans to ban assault rifles in the state of Florida – which played a key role in shooters' abilities to cause mass casualties during the Pulse nightclub and Stoneman Douglas massacres.  He also addresses the issues of gun violence outside of school, on community streets, in public places, and inside homes of domestic abusers. Greene commits to closing gun show loopholes, strengthening background checks, and stopping teachers from being armed at school.
Greene's latest mailer follows another anti-Trump piece that made headlines – an unusual achievement for mailers in modern campaigns. Another includes a sleeping Trump with a cheeseburger on his knee, and positions Greene as "Trump's worst nightmare" – as revealed through a scratch-off.
In addition to the mailers, Greene has reinforced his anti-Trump messaging through television appearances and TV ads. In last week's Democratic Primary debate, Greene called out President Trump directly by saying President Trump was "nothing but a traitor."
CLICK HERE TO VIEW THE "NRA TARGETS" MAILER
CLICK HERE TO VIEW THE "TRUMP GOLF" MAILER
About Jeff Greene
Greene entered the Governor's race on June 1, launching a campaign to offer a breakthrough voice and vision for Florida after polls revealed most Democratic voters remained undecided. Greene comes from humble beginnings – the struggling busboy-turned-successful entrepreneur attended public schools, worked three jobs throughout college, lived essentially out of the back of his Pontiac Grand Am selling circus tickets across the country, and took out student loans to get through college and Harvard Business School. He is running for Governor to give every family in Florida the same tools and opportunities to succeed that he had. Greene is focused on transforming public education and providing access to comprehensive pre-kindergarten for all 3- and 4-year-olds. He will stand up to Trump's divisive rhetoric and dangerous policies, as seen in two of his recent television ads – one of which features video of Greene and Trump in a confrontation at a Trump property. Florida Democrats understand Greene's unique ability to spend whatever it takes to go toe-to-toe with what have been overwhelmingly better-funded Republicans in the general election. Jeff Greene is poised to regain Democratic control of the Governor's office for the first time in 20 years, without being beholden to any special interest groups whatsoever.