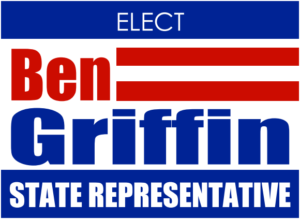 Griffin, the Republican challenger to District 49 incumbent Carlos
Guillermo Smith, beats him for the second time this month.
The Ben Griffin Campaign today announced his victory last night in the straw poll held at the Hispanic Chamber of Commerce of Metro Orlando Political Hob Nob. Griffin's victory over District 49 incumbent Carlos Guillermo Smith is his second straw poll win this month. Griffin also won the East Side Regional Hob Nob straw poll.
"This victory demonstrates our campaign's momentum," said Griffin. "District 49 voters are hungry for representation that reflects their values, and I am grateful for the many supporters who are joining our team. We're going to keep working hard to get our message out all the way to Election Day, and I look forward to continuing to connect with the hardworking men and women of this district.
Griffin, a Republican and first-time candidate, is running on a platform of limited government, stronger education, and Christian values.
Paid by Ben Griffin, Republican, for State Representative