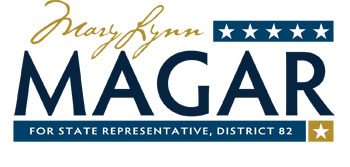 The Florida Chamber of Commerce cites Magar's experience as a business owner
and her pro-business record in the Florida House as reasons for its support.
The MaryLynn Magar Campaign today announced the endorsement of the Florida Chamber of Commerce. Magar is seeking re-election to a fourth and final term representing District 82 in the Florida House of Representatives. She was first elected in 2012.
"Representative MaryLynn Magar has shown time and time again, her dedication to Florida's education system and will continue to fight to lower taxes and improve economic opportunity for all Floridians," said Marian Johnson, Senior Vice President of Political Strategy at the Florida Chamber of Commerce. "The Florida Chamber is proud to endorse Representative MaryLynn Magar for Florida House District 82."
MaryLynn Magar was endorsed for her pro-jobs commitment and support of continuing to move Florida in the right direction.
"Working on job creation alongside Governor Rick Scott and my fellow legislators has been one of the most important missions of my legislative career," said Magar. "I can say without hesitation that relationships with key organizations like the Florida Chamber of Commerce make those job creation efforts more fruitful and are a blessing for Florida's workers and families."
About MaryLynn Magar for State Representative
MaryLynn Magar was first elected in 2012 and represents District 82 in the Florida House of Representatives. She is Vice President and General Manager of HeartCare Imaging, Inc. She is the former Republican State Committeewoman in Martin County and has been a member of the Martin County Republican Executive Committee since 1993. She was active in the campaign efforts for Jeb Bush for Governor and George W. Bush for President. Within her community, Magar is a Eucharistic Minister for St. Jude Catholic Church and is Team Mom for Jupiter-Tequesta Athletic Association. Magar lives in Tequesta with her daughter, Samantha, and husband, Bob, who is President and CEO of HeartCare Imaging, Inc., and a board member of Florida Atlantic University.
ON THE WEB:  marylynnmagar.com

Paid by MaryLynn Magar, Republican, for State Representative