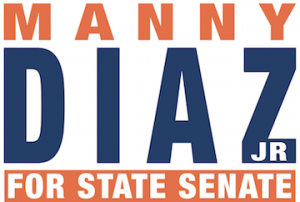 The law enforcement group is backing Manny Diaz's bid for Florida Senate District 36.
The Manny Diaz Campaign today announced the endorsement of the Florida State Lodge Fraternal Order of Police (FOP). The FOP strives to promote law and order in addition to fostering unity among law enforcement officers in the state of Florida. Diaz is seeking the District 36 seat in the Florida Senate. Since 2012, he has represented District 103 in the Florida House of Representatives.
"I'm very honored to have FOP's support," said Diaz. "Keeping law enforcement strong is vital to every community across Florida, and I will continue to make that a priority. I admire and appreciate the bravery and dedication law enforcement personnel show each and every day, and I look forward to continuing to work with them to make sure residents and tourists alike enjoy peace and safety in our state."
The Florida State Lodge Fraternal Order of Police has been representing law enforcement officers in Florida for over 60 years and currently serves over 20,000 members. The FOP rigorously advocates for police officers and works to enhance public confidence in law enforcement.
In addition to FOP, Diaz has received numerous endorsements, including from the Dade County Police Benevolent Association, the Florida Chamber of Commerce, NFIB Florida PAC, Associated Industries of Florida PAC, and Florida Right to Life PAC. He has also been endorsed by the following elected officials: Miami-Dade County Commissioner Esteban "Steve" Bovo; Mayor Fred Spencer Deno IV of Virginia Gardens; Mayor Francis Suarez of the City of Miami; Mayor Carlos Hernandez of Hialeah; Mayor JC Bermudez of Doral; Mayor Yioset De La Cruz of Hialeah Gardens; Mayor Manny Cid of Miami Lakes; Mayor Roberto Martell of Medley; Mayor Billy Bain of Miami Springs; and Hialeah City Council President Vivan Casals Muñoz.
ON THE WEB:  VoteMannyDiazJr.com

Paid by Manny Diaz Jr., Republican, for State Senator