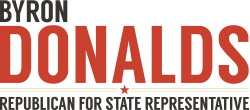 Byron Donalds handily defeated his challengers in the
Florida House District 80 straw poll held yesterday.
The Byron Donalds Campaign today announced his victory yesterday in the Politics in the Park straw poll held at the Naples Area Board of Realtors. Donalds took 54 percent of the vote in the three-way race for House District 80. A Republican, Donalds was first elected in 2016.
"The voters of District 80 have gotten to know me over the past two years," said Donalds. "They know that I stand for lower taxes, better education for Florida students, and robust economic growth. I plan to keep working to implement policies that reflect those values, and I appreciate everyone who took time to come out to a great Politics in the Park event and support me."
Donalds currently serves as Vice Chair of the PreK-12 Appropriations Subcommittee and on the Education and Ways and Means Subcommittees. The Politics in the Park event was held in conjunction with the Collier Building Industry Association.
About Byron Donalds for State Representative
Byron Donalds works in finance, insurance, and banking in Southwest Florida. Over the past five years, he has been a featured speaker on national and statewide policy and politics and is a regular guest on Daybreak with Drew Steele on 92.5 Fox News FM, The Bob Harden Show, and The Joe Whitehead Show on 98.9 WGUF. Donalds was appointed by Gov. Rick Scott to the Board of Trustees for Florida Southwestern State College, formerly Edison State College. He serves as a founding board member for a public charter school in Naples, an Advisory Board member for the Salvation Army of Collier County, and a youth leader at Living Word Family Church. In 2012, he carried Collier County in the Republican primary to succeed Connie Mack as U.S. Representative. Donalds graduated from Florida State University. He lives in Naples with his wife, Erika, and his three sons.
ON THE WEB:  ByronDonalds.com

Paid by Byron Donalds, Republican, for State Representative