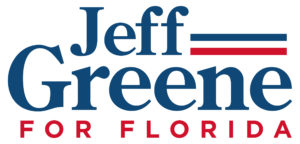 Greene pledged to spend what it takes to win the general,
showing a mastery of issues Florida is facing
Jeff Greene showed a mastery of the issues the state of Florida is facing and in a spirited debate rebuffed his opponents attempts to discredit him. Giving a few jabs of his own, Greene reminded voters of Levine's republican ties and Graham's destruction of the environment – two issues central to Democrats' support of a gubernatorial candidate.
Greene challenged candidate Phil Levine during tonight's debate on two key issues: his campaign contributions to Republican Marco Rubio and claiming to hire a police chief he didn't. As a weak mayor, Levine was unable to hire the African American female police chief he proudly takes credit for – his city manager was responsible.
Greene also challenged Graham on her support of the Keystone Pipeline, a vote she doubled down on tonight, and megamall environmental disaster on the edge of the Everglades from which she will financially benefit.
When asked about his prior support of Trump, Greene clarified that he was critical of Trump during the campaign – calling him a sexual predator in the Palm Beach Post.  joined Barack Obama and Hillary Clinton in calling for unity in the days following the election, and has been outspoken about his opposition of Trump's presidency once it became immediately clear Trump could not rise to the challenge.
During the debate, Greene offered a voice and vision for Florida – and highlighted his unique ability to win in November by spending "whatever it takes, whether it's $100 million, $200 million."