Flagler College is pleased to announce its partnership with Flagler Hospital as the college implements its new smoke and tobacco-free policy which went into effect on the college's campus August 1. On Monday, Flagler Hospital President and CEO Jason Barrett presented a $10,000 check to Flagler College President Dr. Joseph Joyner.
The donation will be used to support the "Breathe Free Flagler College" day, a campus-wide kick-off event which will celebrate the new smoke and tobacco-free policy. The event will be held in the center of campus on the West Lawn on Wednesday, September 5. The purpose of the event is to celebrate the cleaner and healthier environment, to spread policy awareness, and to discuss the positives of going smoke and tobacco-free during the campus' Welcome Back Fair.
Students, faculty, and staff can also speak with members of Tobacco Free St. Johns to learn more about Nicotine Replacement Therapy (NRT) and cessation services. "Breathe Free Flagler College" day is open to all Flagler College students, staff, and faculty members, as they are welcomed back to the campus community to start the academic year. The event will last all day to include a rock wall, a photo booth, air dancers, lawn activities, free food and beverages, dozens of free promotional items, and a contest for students to win prizes.
"On behalf of our entire team, I would like to congratulate Flagler College on making this important move to create a healthier environment for their student population and surrounding residents," said Barrett. "We are excited to support this effort and others, as we work collaboratively with key community partners across the region to build healthier communities, together."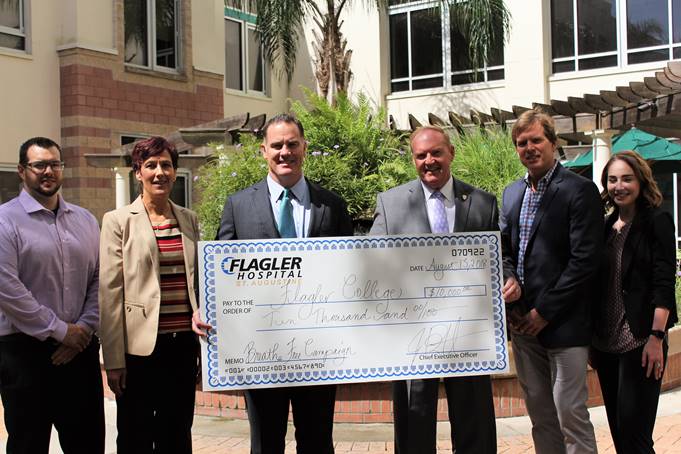 The campus is now free from all smoke and vaping products such as cigarettes, simulated smoking products, loose leaf tobacco, and more. The event will be attended by members of Tobacco Free St. Johns and Flagler Hospital, who were also at the check presentation.
"We are very pleased to receive this generous gift and begin this community partnership with Flagler Hospital. Flagler Hospital's support of our smoke and tobacco-free policy will be pivotal to the success of this important community health initiative. We look forward to the many health benefits that working with Flagler Hospital will bring to the college and the community," said Dr. Eric W. Hoffman, director of the Flagler College Breathe Free campaign.
The Breathe Free campaign at Flagler College will last two years. The campaign will introduce mascot Louie the Lung in campaign materials on campus to serve as a reminder and encourage the Flagler Family to lead a lifestyle free from the dangerous health effects of smoking and tobacco use.
For more information about the Flagler College smoking policy, click here.