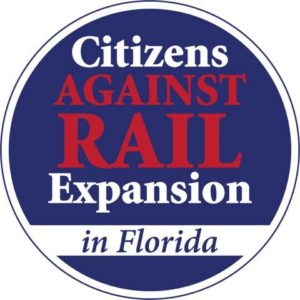 The Florida Development Finance Corporation (FDFC) today unsurprisingly voted in favor of a resolution to approve private activity bonds (PABs) for All Aboard Florida (AAF)/Brightline during a three-hour meeting in Orlando. Representatives for Citizens Against Rail Expansion in Florida (CARE FL), Indian River County and Martin County were in attendance to voice concerns on numerous issues related to the AAF project, including the fact that there is active litigation related to the issuance of these bonds.
"The decision by the FDFC Board today was nothing more than exactly what we expected. Predictably, the Board once again acted as a rubber stamp for the All Aboard Florida/Brightline project, placing no conditions on the bond approval, despite repeated urging from both elected officials and representatives from affected counties to carefully consider numerous economic, safety and legal issues related to these bonds," said Brent Hanlon, Chairman of CARE FL. "As the state's authorized conduit issuer of these bonds, the FDFC has an obligation to take a balanced look at all of the facts, not just treat AAF as its favored client."
Several elected officials were also in attendance at today's meeting who cautioned the FDFC Board against hastily approving this PAB allocation for AAF, including Senator Debbie Mayfield, Representatives Erin Grall and MaryLynn Magar, and Indian River County Commissioners Peter O'Byran and Tim Zorc.
"I want to personally thank these elected officials who once again stood up and strongly advocated for the residents of their communities. They are our true champions and continue to work tirelessly to try to protect their constituents from this ill-conceived project," added Hanlon.
For more information about CARE FL, please visit saveourfl.com or like us on Facebook.