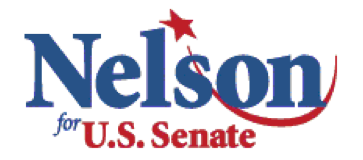 The Miami Herald today endorsed Bill Nelson for U.S. Senate today. The endorsement comes on the heels of another major newspaper giving the nod to Nelson. And the release of three new major polls last week all showing the close race leaning toward Nelson.
"Nelson is a fifth-generation Floridian with wide knowledge of state issues from the Florida Keys to the Panhandle," the newspaper's editorial board declared in its Sunday edition.
"Representing Florida in the Senate for the past 18 years, he has established himself as a champion of Florida and Democratic principles," the newspaper said. "He has been a consistent advocate for providing broad access to affordable quality healthcare and a state education system that works for all families. He has focused on protecting Florida's environment and tourism-driven economy."
About Nelson's GOP opponent, Rick Scott, the Herald's editorial board strongly rebuked the governor.
"Scott has been an election-year Johnny Come Lately to many issues of the utmost importance to the state," the newspaper wrote. "His poor environmental record … has led to the red-tide crisis on one Florida coast and a slick of blue-green algae on the other."
The paper also tagged Scott for supporting oil drilling off Florida beaches and for "his election-year posturing" on the issue.
"There is too much at stake for Florida — and the nation — for state voters to give Scott a chance to do damage on a larger scale," the newspaper's editorial board said.
The endorsement of Nelson, with a strong rebuke of Scott, is reminiscent of the endorsement Nelson received last week from another major daily newspaper, the South Florida Sun-Sentinel. More specifically, the Sun-Sentinel wrote:
"Nelson has been a workhorse, not a show horse, while Scott has spent the last eight years reaping headlines on a near-daily basis. Look closely, though, and those headlines tell the story of a governor who wouldn't deserve re-election. Nothing in his record suggests he would do better as a senator."
Check out the full endorsement here.
Bill Nelson for U.S. Senate