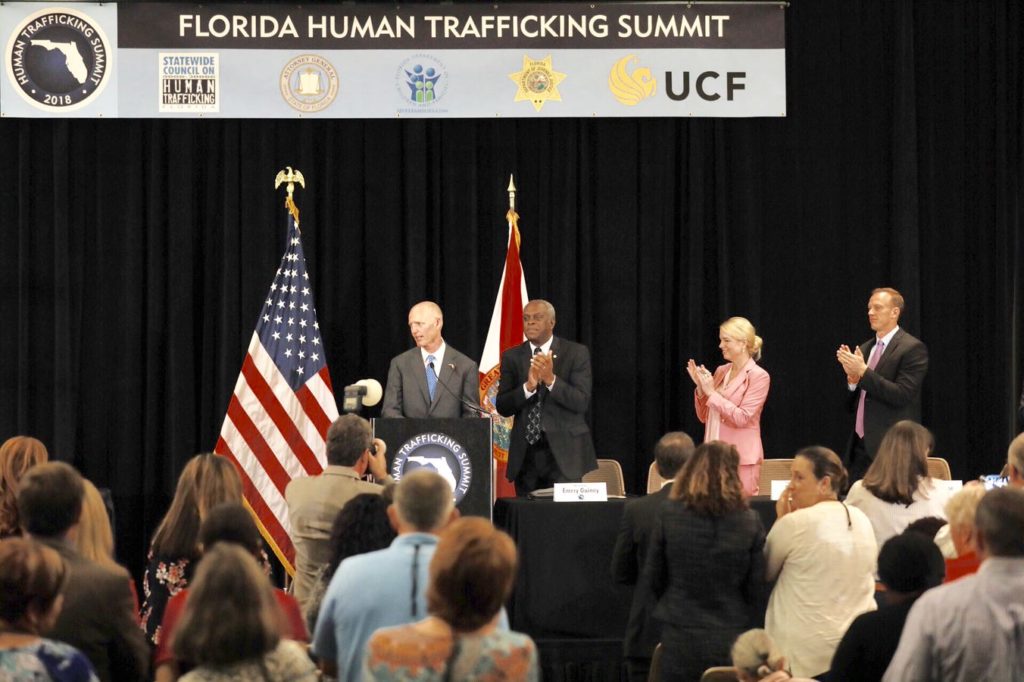 Governor Rick Scott today spoke at the sixth annual Anti-Human Trafficking Summit in Orlando. Governor Scott highlighted $6.2 million in new funding in this year's budget to provide services for victims of human trafficking, as well as the seven pieces of legislation he has signed since 2012 which help fight this horrific crime by establishing harsher penalties for human traffickers and providing enhanced services for survivors. Governor Scott also highlighted Florida's 47-year crime low, which he announced earlier this year.
At the summit, Governor Scott joined Attorney General Pam Bondi to recognize individuals who are leading the fight against human trafficking in Florida.
Individuals recognized with awards at the summit included:
Jamie Rosseland, Survivor Advocate of the Year
Jamie serves as the Survivor-Mentor at the Delores Barr Weaver Policy Center and was one of the first hires for the position at Open Doors Outreach Network. She is responsible for helping her team build long-term relationships with victims, providing emotional and relational support and care management such as housing, employment and transportation assistance.
Ms. Rosseland responds to the 24/7 crisis access line and is often on the road meeting directly with those who need assistance throughout the 5 counties she serves. She also collaborates with the Jacksonville Sheriff's Office, the State Attorney's Office, the Department for Children and Families, the Department of Juvenile Justice, and the county school system, often assisting with outreach and providing important feedback and solutions.
Nick Cox and the Office of Statewide Prosecution, Prosecutor of the Year
Nick Cox has served as the Statewide Prosecutor for the Department of Legal Affairs since 2012. Under his leadership, the Office of Statewide Prosecution has assisted local, state and federal law enforcement agencies in investigating cases of human trafficking throughout Florida leading to numerous arrests and prosecutions. Cox has tried approximately 150 criminal jury cases, including numerous homicides and capital cases, and has served as a chief of felony and economic crimes units.
Cox also has experience as a commercial litigator in private practice and as a faculty member at the Stetson University College of Law. Most recently, Cox has served since 2007 as the Department of Children and Families' regional director for the SunCoast Region, encompassing an area from Pasco County south to Collier County.
Special Agent Supervisor Jose Ramirez, Law Enforcement Official of the Year
Special Agent Ramirez has had a 23-year career in law enforcement and currently works for the Florida Department of Law Enforcement as a Special Agent Supervisor in the Miami Regional Operations Center, Major Crime Investigations Squad. Ramirez worked with the National Institution of Corrections, the Orange County Corrections Department and the Florida Department of Corrections to develop new policy and protocols that will help institutions across the nation combat traffickers from recruiting vulnerable females from Florida's prisons and jails.
He has also developed specialized training for law enforcement officials, which has been presented in many law enforcement agencies in Florida as well as overseas. While working with the Metropolitan Bureau of Investigations task force, he investigated Human Trafficking allegations across the state of Florida. With the assistance of the Office of the Orange-Osceola County State Attorney's Office and the Office of Statewide Prosecution, Special Agent Ramirez achieved the conviction of the first individual charged under Florida Statute 787.6 which prohibits Human Trafficking in the state of Florida. He also achieved a conviction of the first individual sentenced to life in prison under the same Statute.
Yinay Ruiz, Community Advocate of the Year
Yinay is the project manager of the Our Kids of Miami Dade/Monroe County Miami Cares Project. She is a dedicated advocate for vulnerable youth in her community and has strengthened the collaboration among the providers, fellow advocates and law enforcement agencies she works with. Yinay was instrumental in the development of GRACE Court which serves young victims of human trafficking and organized the Human Trafficking Child Plan Recovery Meeting bringing together local, state and national law enforcement and government agencies to develop a plan to recover children that have been missing and are suspected to be trafficked.
Therese Moses, Florida Department of Juvenile Justice Human Trafficking Advocate of the Year
Moses has been with DJJ for 27 years and currently serves as the Human Trafficking Liaison for Circuit 1 which covers Pensacola and the western panhandle. She helped to develop and maintain the Circuit 1 Human Trafficking Task Force, one of the largest and most active anti-trafficking task forces in the state.
Katia Coonan, Florida Department of Children and Families Human Trafficking Investigator of the Year
Katia Coonan has worked closely with law enforcement agencies in the 12 counties that she covers, helping to ensure comprehensive investigations are conducted. Coonan is also involved in Human Trafficking Task Forces in both Circuit 2 and Circuit 14 and has assisted with training DCF investigators and case management staff on the Human Trafficking Screening Tool.