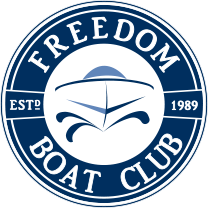 Freedom Boat Club, the nation's oldest and largest boat club with 20,000+ members in 31 states and Canada, recently concluded its third national cause-marketing partnership to benefit Big Brothers Big Sisters of America.
While total contributions among all participating clubs nationwide are presently being collected and tabulated, the corporate Freedom Boat Clubs from SW FL raised $30,000 which will directly benefit Big Brothers Big Sisters of the Sun Coast. Funds raised in each of the club locations throughout North America are returned to their local regions and BBBS affiliates.
"We are very excited by the results of our "BOATING BIG!" third year effort, and especially appreciate the support of our generous Freedom Boat Club employees, members and vendors in partnering with us to raise funds for Big Brothers Big Sisters of America," said Freedom Boat Club President and CEO John Giglio. "Our corporate team thoroughly enjoys planning and executing this activity that allows young people to experience the boating lifestyle."
Four boating events were held during the summer months of June & July at Sarasota's Marina Jack, Englewood's Cape Haze Marina, Fort Myers Salty Sam's Marina and Naples Brookside Marina. BBBS Bigs and Littles were invited to participate in fun games, enjoy a complimentary lunch and then take a boating adventure and scavenger hunt aboard Freedom Boat Club pontoons and deckboats skippered by FBC captains.
In addition, Freedom Boat Club raised funds throughout the summer for the organization. Raffles were held at monthly member social events, and all new memberships in June, July and August were earmarked with a $100 contribution to BBBS. In addition, a special Paypal link was advertised to Freedom Boat Club members and vendors who could directly donate to the organization.
"We at Big Brothers Big Sisters are grateful and appreciative to Freedom Boat Club and their staff for hosting such fun events, as well as for the generous funds that support our mission of changing lives for the better, forever!" said Big Brothers Big Sisters of the Sun Coast CEO Joy Mahler.
For more information about the Freedom Boat Club – BBBS campaign, contact Freedom Boat Club SW FL Event & Marketing Coordinator Chelsea Smith– [email protected] For information about Freedom Boat Club, visit freedomboatclub.com.
About Big Brothers Big Sisters of the Sun Coast
Big Brothers Big Sisters provides children facing adversity with strong, enduring, professionally supported one-to-one mentoring relationships that change their lives for the better, forever. Big Brothers Big Sisters ensures that the children in its program achieve measurable outcomes, including educational success, avoidance of risky behaviors, higher aspirations, greater confidence, and better relationships. This mission has been the cornerstone of the organization's 114-year history. With nearly 300 affiliates across the country, Big Brothers Big Sisters has served more than 2 million children ("Littles") in the past 10 years. For more information visit: bbbssun.org