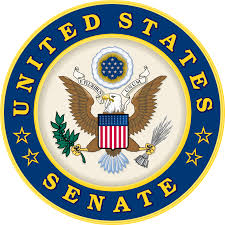 President Trump today signed a bill that would, among other things, regulate airline seat sizes for passengers. The bill includes key provisions offered by U.S. Sens. Bill Nelson, a Democrat, and John Thune, a Republican.
The bipartisan measure directs the Federal Aviation Administration, among other things, to set a minimum standard for airline seat sizes in the wake of consumer complaints about shrinking seats. It also prohibits airlines from bumping passengers who've already boarded an overbooked flight.
"There's a lot to like in this bill, especially if you're fed up with shrinking airline seat sizes," Nelson said, adding that "It goes to show that you can get things done when lawmakers put aside any partisan differences."
In addition to funding the Transportation Security Administration (TSA) for three years and the FAA for the next five years, the bill includes several bipartisan provisions, including assistance to help people in Florida and Puerto Rico who are still recovering from last year's hurricanes.
For example, the bill includes various other lawmakers' amendments to extend unemployment benefits to individuals in Puerto Rico and the U.S. Virgin Islands for up to one year, instead of six months. It also contains a provision touted by Nelson and Sen. Marco Rubio to prevent FEMA from taking back disaster funds it provided to local communities years later.
The Senate version of the FAA bill authored by Nelson and Thune, the top Democrat and Republican leaders on the Senate Commerce Committee, was approved by the panel last year. The measure President Trump signed today was the result of a bipartisan compromise reached among House and Senate transportation leaders, including Nelson.
Here are some of the other provisions of the FAA law:
It requires TSA to provide travelers with real-time information on security-line wait times both inside airports and online.
It prohibits airlines from involuntary bumping passengers who have already boarded.
It directs FAA to set minimum standards for airline seat sizes.
It requires large and medium airports to provide private rooms for nursing mothers
It requires airlines to promptly return any fees passengers paid for services not received – such as fees paid for seat assignments, and early boarding.
It establishes an aviation consumer advocate within the U.S. Department of Transportation.
It authorizes more canine security teams in our nation's airports to meet increased demand.
It provides $1.68 billion to communities affected by Hurricane Florence last month.
A section-by section summary of the bill is available here. 
The full bill text (1207 pages) is available here.