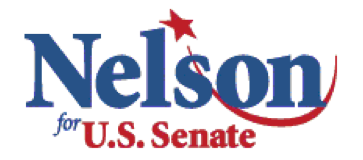 "[Sen. Bill] Nelson has long been a bulwark against oil drilling off Florida's coast, a bipartisan position that protects Florida's shoreline, and the state's important tourism industry, from the petroleum industry's greed."
So stated Florida's second largest newspaper in endorsing U.S. Bill Nelson today for re-election.
It brings to a half-dozen the number of such endorsements Nelson has earned so far in the Senate campaign. The most recent nod came from the Orlando Sentinel editorial board, which called Nelson "a centrist" and praised him for his bipartisan willingness to join with Republicans often.
The Sentinel concluded: "He's a decent person who has served Florida and his country well, both in the military and in politics. Bill Nelson has earned another term in the U.S. Senate."
The newspaper contrasted Nelson's record with that of his GOP opponent, Rick Scott.
"Scott will further the political tribalism that's dividing this country, to the peril of us all," the editorial board stated.
The Sentinel's assessment has been widely agreed upon by editorial boards around the state.
Florida's largest newspaper, the Tampa Bay Times, noted: "U.S. Sen. Bill Nelson has built a commendable career in public service as a moderate who steadily works in a bipartisan fashion on issues important to Floridians. … Gov. Rick Scott, who has consistently sided with the wealthy and the well-connected as he has eroded the interests of working families. Nelson has served Floridians well and deserves a fourth term."
The Miami Herald's judgment was succinct: "Re-elect Bill Nelson to the Senate. He puts Florida's interests first." And "Scott has been an election-year Johnny Come Lately to many issues of the utmost importance to the state," the newspaper wrote. "His poor environmental record … has led to the red-tide crisis on one Florida coast and a slick of blue-green algae on the other."
The South Florida Sun Sentinel said: "Nelson has been a workhorse, not a show horse. … It's not just the people of Florida who need Bill Nelson back in the Senate. It's all of the people of the United States of America."
The Palm Beach Post cited Nelson's leadership on issues of critical importance to the state, including fighting the opioid crisis and protecting Florida's natural resources and delivered a scathing rebuke of Nelson's GOP opponent, Scott, slamming his time in office as "marked by cronyism" and "high-handed legal actions to fight government transparency that have cost state taxpayers millions."
And the nation's only trilingual newspaper, Tampa's La Gaceta slammed Scott for being "a bad governor."
The full Orlando Sentinel endorsement is available 
here
.
Bill Nelson for U.S. Senate