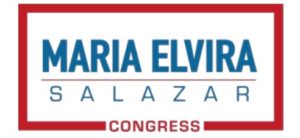 Maria Elvira Salazar, Republican candidate for Florida's 27th Congressional District, will join U.S. Senator Marco Rubio (R-FL) and Florida House Speaker Pro Tempore Jeanette Nuñez tomorrow in a rally to encourage folks in South Florida to take full advantage of the early voting schedule that is currently in full swing.
"I am very much looking forward to joining Senator Marco Rubio and Candidate for Lt. Governor, Representative Jeanette Nuñez tomorrow to continue sharing with my District 27 community the importance of going out to vote during these midterm elections," Maria Elvira Salazar declared. "The future of our state and our country is in our hands and only by voting can we ensure our voice is heard," she added.
WHAT: South Florida Early-Vote Rally
WHO: U.S. Senator Marco Rubio (R-FL), Florida House Speaker Pro Tempore Jeanette Nuñez and Maria Elvira Salazar
WHEN: Wednesday, October 31, 2018, at 9:00 am
WHERE: West Dade Regional Library – 9445 SW 24th Street, Miami, Florida 33165
About Maria Elvira Salazar
Maria Elvira Salazar is a five-time Emmy award-winning broadcast journalist. She has established her reputation as a leading expert on Latin American affairs and the U.S. Hispanic community by covering major breaking-news events in the past 35 years.
Until recently, Salazar was the sole anchor of the MEGATV nightly newscast and she previously hosted her own daily prime-time political news show called "Maria Elvira Live." She was the first and only U.S. Spanish-language television journalist to obtain a one-on-one interview with Fidel Castro during his 50 years in power. Salazar began her career in broadcasting in 1984 as a local reporter for the Univision Network flagship station Channel 23 in Miami, Florida.
Salazar was born in Miami to Cuban parents who fled in 1960, upon the arrival of the Cuban communist revolution. She holds a Bachelor's Degree in Communications from the University of Miami and a Master's Degree in Public Administration from Harvard University's John F. Kennedy School of Government.
She lives in Coral Gables, Florida, with her two daughters.
Maria Elvira Salazar for Congress