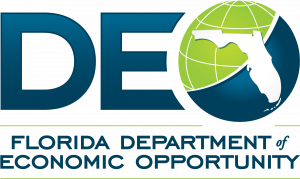 This week, the Florida Department of Economic Opportunity (DEO) celebrates National Apprenticeship Week highlighting the value and benefits apprenticeships offer to job seekers and employers. DEO joins leaders in business, labor and education to promote apprenticeships, as they prepare a highly skilled workforce to meet the talent needs of employers across diverse industries.
DEO Executive Director Cissy Proctor said, "Apprenticeships help Florida's employers recruit and keep the talent they need to remain competitive. We are excited to recognize National Apprenticeship Week to promote a strong, talented workforce."
Apprenticeships provide demand-driven education and hands-on experience to job seekers while offering the unique opportunity to earn wages, reducing the need to take on debt. This results in a highly skilled workforce ready to be hired for in-demand jobs across the state. DEO in partnership with the Florida Department of Education and CareerSource Florida, applied for and received the Apprenticeship USA grant which helps support businesses with effective implementation of apprenticeship programs.
Commissioner of Education Pam Stewart said, "We are proud that Florida's public education system offers students of all ages and backgrounds pathways to reach their academic and career goals. Countless students have gained the professional skills necessary to succeed through apprenticeship programs, and National Apprenticeship Week is a great time to highlight the tremendous opportunities available to help all students get a head start on meaningful careers."
Michelle Dennard, CareerSource Florida President and CEO said, "Expanding apprenticeships is a priority in Florida as we work collaboratively to close the skills gap, expand career opportunities for job seekers and workers and connect businesses to the highly skilled talent they need to succeed. As we observe National Apprenticeship Week, I want to commend the CareerSource Florida network and our many partners for their efforts that helping to ensure our state has a competitive workforce today and in the future."
A list of apprenticeship events and career fairs in Florida celebrating National Apprenticeship Week can be found here.
About DEO
The Florida Department of Economic Opportunity combines the state's economic, workforce and community development efforts. This new approach helps expedite economic development projects to fuel job creation in competitive communities. For more information, including valuable resources for employers and job seekers, please visit www.floridajobs.org.