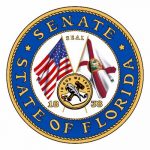 Florida Senate President-Designate Bill Galvano (R-Bradenton) today announced his selection of Senator David Simmons (R-Longwood) as Senate President Pro Tempore for the 2018-2020 Legislative Term.
"The role of Senate President Pro Tempore is a position of significant trust and authority. Together with the President and the Rules Chair, the Pro Tempore is responsible for ensuring that we abide by the letter and spirit of the Senate Rules to ensure all Senators have the opportunity to advocate for their constituents," said President-Designate Galvano. "Senator Simmons and I have both had the honor of serving as Rules Chair. We share a love of history and an appreciation for the rules and procedures that govern the legislative process. As President Pro Tempore he will ensure we maintain the high standards of fair and open civil discourse expected of the Florida Senate."
"Over the years, David has been a reliable partner in working through challenging public policy and budget issues. We have all seen David's unmatched work ethic and tireless determination to fiercely advocate for the issues and causes he supports. However, those of us who have served with David in both the House and the Senate have also witnessed the countless occasions where he demonstrates the same tenacity and dedication when speaking up for his fellow Representatives or Senators if he feels that a colleague has been treated unfairly," continued President-Designate Galvano. "I am confident David will approach the position of President Pro Tempore with a level of respect we will all admire."
Senator Simmons represents Senate District 9, which includes Seminole County and portions of Volusia County. He served in the Florida House of Representatives from 2000-2008, and was elected to the Senate in 2010 and re-elected subsequently. During his Senate service, Senator Simmons served as a Majority Whip from 2010-2012 under President Haridopolos and as Chair of the Senate Committee on Rules from 2014-2016 under President Gardiner. Originally from Tennessee, Senator Simmons graduated from Tennessee Technological University in 1974 with a Bachelor's Degree in Mathematics. He moved to Florida in 1977 after earning a law degree from Vanderbilt University. A practicing attorney for over forty years, Senator Simmons is a Financial Managing Partner of de Beaubien, Simmons, Knight, Mantzaris, & Neal, LLP in central Florida. He has two adult daughters, Krysia and Alicya.
The Senate will formally vote on President-Designate Galvano's selection of Senator Simmons as the Senate President Pro Tempore during the Organization Session on November 20, 2018.