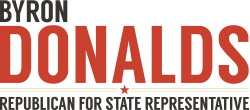 The Naples Republican says the legislation will save taxpayers millions
of dollars while improving the state's criminal justice system.
Representative Byron Donalds, a Naples Republican, has filed legislation to raise the felony threshold amount from $300 to $1,000 and to impose a minimum monetary felony threshold for third petit theft offenses. This legislation aims to reduce recidivism and to reform Florida's criminal justice system.
"This threshold has not been changed in over 30 years," said Donalds. "A lot has changed since then, and it's past time for Florida to make this crucial reform that will save taxpayers millions of dollars and make our criminal justice system more effective."
Florida's first-offense felony grand theft threshold has not been revised since 1986. Thirty-three years ago, when this threshold became law, websites did not exist, VCRs cost $300, and Ronald Reagan was our president.
This legislation also removes juvenile offenses from being considered as priors for a petty theft as a third offense felony charge.
With 47 states having higher felony theft thresholds than Florida, this increase puts Florida on par with the national average. Since 2000, 37 states have raised their felony theft thresholds. Since then, these states all saw a reduction in property theft and larceny rates after those felony theft thresholds were increased.
Legislative reform on this matter makes Florida smarter on crime while simultaneously saving taxpayers millions of dollars over the long term by ensuring prison is reserved for those who are a threat to public safety. Individuals convicted of low-level theft offenses are fairly punished for their crimes, while still being able to maintain ties to their communities and become more productive members of society. These two factors have been proven to reduce recidivism.
Donalds is working with Right On Crime, an organization that focuses on cost-effective approaches to reform criminal justice systems and public safety policies to reduce crime. Senator Jeff Brandes is the sponsor of the Senate companion, SB 406.
About Byron Donalds for State Representative
Elected to the Florida House of Representatives in 2016 and re-elected to his second term this past fall, Byron Donalds sits on six committees and serves as the Chairman of the PreK-12 Quality Subcommittee. For his work and commitment to education, Rep. Donalds earned an A+ on the Foundation for Florida's Future 2018 Florida Education Report Card. He was the recipient of a Conservative Excellence award for the 2018 Legislative Session by the American Conservative Union Foundation. Representative Donalds works as a financial advisor in Naples when not in Tallahassee. He and his wife, Erika, are proud parents of three school-age boys.
ON THE WEB:  www.ByronDonalds.com
Paid by Byron Donalds, Republican, for State Representative