With the U.S. Senate Judiciary Committee voting to advance William Barr's nomination for U.S. Attorney General today, Florida Chief Financial Officer (CFO) Jimmy Patronis sent a letter to President Donald J. Trump on the urgent need for greater clarity regarding federal regulatory guidelines around the banking of state-authorized medical marijuana businesses. The letter can be found HERE and below.
---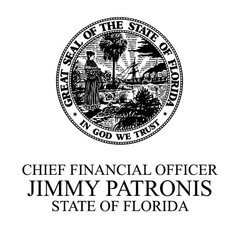 President Donald J. Trump

1600 Pennsylvania Avenue

Washington, DC 20500
I applaud your selection of William Barr to serve as U.S. Attorney General. He served honorably as Attorney General under the President George H. W. Bush administration and there is certainly no shortage of critical federal issues he will need to address under your leadership. One of those issues is the subject of this letter to you today – the urgent need for federal regulatory guidelines around the banking of state-authorized medical marijuana businesses. 
In Mr. Barr's recent Senate committee testimony, he spoke about the fact that several states have made laws allowing the use of marijuana. As you know, in Florida our voters overwhelmingly supported an amendment to add access to medical marijuana to Florida's Constitution in 2016, by more than 70 percent of the vote. Since then, Florida medical marijuana businesses have grown to an estimated $300 million industry with market analysts predicting sales to exceed $1 billion by 2020, and Florida has more than 220,000 medical marijuana patients. The size and staggering growth of the medical marijuana industry, paired with limited regulated banking options, puts patients and employees in dangerous situations as potential targets for criminal activity.
We are now facing a tremendous safety threat as most dispensaries operating in our state are doing so as cash-only businesses. Most Florida banks and credit unions will not allow deposits from medical marijuana businesses because of the lack of federal clarity on cannabis banking. This leads to medical marijuana dispensaries handling this problem in an antiquated and dangerous manner by transporting millions of dollars in duffle bags of cash and even driving the cash endlessly around in trucks.
From my experience in the restaurant industry, I know first-hand the risks that come with handling large amounts of cash, which are even greater when a business operates entirely on a cash basis. Mr. Barr said that ultimately the federal legislative process is the "right way to resolve" legalizing medical marijuana, but that process is often incredibly lengthy. In the meantime, these businesses are easy targets for criminals and criminal activity. I am asking you to consider administrative action in the interim to offer clear guidance to the financial services community on how they can follow our existing state laws without risk of penalty from federal regulators. We must reassure financial institutions that there will NOT be retribution for servicing businesses that act within the state's legal framework.
Like you, my top concern is for the safety of our people. The rapidly growing cash-only medical marijuana industry in Florida poses a serious threat to the security of our communities. I am asking that the federal government step in to help now, before an incident happens and we are instead in the sad position of responding after the fact.
Thank you for considering this urgent request and for all you and your Administration do for the Sunshine State.
Sincerely,
Jimmy Patronis
Chief Financial Officer
State of Florida
FLORIDA DEPARTMENT OF FINANCIAL SERVICE
200 EAST GAINES STREET ·  TALLAHASSEE, FLORIDA 32399-0301  ·  TEL. 850-413-2850
---
About CFO Jimmy Patronis
Chief Financial Officer and State Fire Marshal Jimmy Patronis is a statewide elected official and a member of Florida's Cabinet, who oversees the Department of Financial Services. CFO Patronis works each day to fight insurance fraud, support Florida's firefighters, and ensure the state's finances are stable to support economic growth in the state. Follow the activities of the Department on Facebook (FLDFS) and Twitter (@FLDFS).