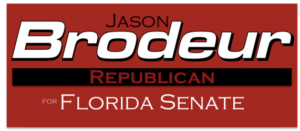 Sen. Simpson praises Brodeur's Leadership and Effective Record
Former Representative Jason Brodeur announced today Senator Wilton Simpson, who is slated to become Senate President in 2020, has endorsed his campaign for the Florida Senate.
"Jason's leadership and commitment on important issues such as family adoption, public safety and education has proved critical in passing meaningful legislation that helps Florida families." said Senator Simpson. "I'm excited to endorse Jason's campaign, and I'm proud of the work we've already accomplished together on key issues like pension reform. I'm confident in his ability to continue to lead in the State Senate."
"Senator Simpson is a proven state leader, colleague and friend. I am honored to have his support," said Brodeur. "His leadership in the Florida Senate has been crucial to the success of our state, and I was honored to have had the opportunity to work with him on a number of important issues during my time in the Florida House.
"I look forward to continuing our work together to improve the lives of every family in the Sunshine State," Brodeur added.
About Jason Brodeur
Jason Brodeur was born in Daytona Beach, Florida and graduated from Oviedo High School. After working for Procter and Gamble for 11 years, Jason started his own health care consulting company headquartered in Sanford, Florida and is currently President/CEO of the Seminole County Regional Chamber of Commerce. For the 2017 Legislative Session, Rep. Brodeur was named Chairman of the House Health Care Appropriations Subcommittee. To learn more, please visit JasonBrodeur.com.
Paid by Jason Brodeur, Republican, for State Senate.