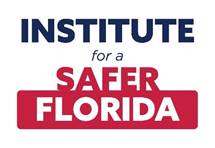 Business leaders join with educators and law enforcement
to drive dialogue, promote best practices in safety
The Florida Chamber of Commerce, along with educators, human resource experts and law enforcement leaders, today unveiled the Institute for a Safer Florida (ISF) to focus its energy and expertise on enhancing school and workplace safety.
For more than 100 years, the Florida Chamber has been working to secure Florida's future, and lead our state to a diverse and sustainable economy. For the past 40 years, the Florida Chamber has spawned several organizations that Floridians recognize today, including:
Leadership Florida,
Florida Retail Federation,
Florida Justice Reform Institute, and
Floridians for Better Transportation.
The goal of the ISF is to help Florida evolve from a state that has witnessed school and workplace violence that has claimed dozens of lives, to a state that has among the safest schools and places of employment in the nation.
"Sadly, we cannot turn the clock back on the terrible tragedies that have impacted Florida's students and workers over the past three years," said Mark Wilson, President and CEO of the Florida Chamber of Commerce. "But we can honor those lost by learning from these events and working together to help make our classrooms and our workplaces safer."
The ISF will focus and champion solutions in four key areas: safer schools, safer workplaces, mental health, and public safety.
Results from a recent statewide poll of nearly 800 registered voters shows:
Floridians strongly support more safety training for schools and businesses, and
Believe it is important that business leaders are involved in finding answers to the mass shootings that have plagued Florida and the U.S.
94 percent of those polled said they support better and more safety training for teachers and school personnel, and
74 percent said they were concerned about violence at their local schools, or where their children go to school.
TOWARD SAFER SCHOOLS: The institute will advocate for and support strengthening communications between educators, mental health professionals and law enforcement regarding high-risk students and other individuals and help to identify and support best practices in school and classroom design. 
TOWARD SAFER WORKPLACES: The institute will research and share best practices in personal and office security, identify and promote active shooter and other safety training for workplaces, and ensure that business leaders have a voice in major public policy debates regarding safety.
The institute is drawing input from an initial Advisory Panel whose members have backgrounds in business, education, human resources, healthcare and law enforcement.
"Parents send their children to school every day praying and expecting that their kids are being taught in the safest learning environment possible," said Dr. Stacy Chambers, Director of the Florida State University School and a member of the ISF Advisory Panel. Chambers was a school principal in Connecticut when the Sandy Hook elementary school tragedy occurred and has dealt with active shooters on campus. "While there has been work done in identifying gaps in school safety, we can do more, and the institute will help to keep a spotlight on this."
Another Institute Advisory Panel member is Chad V. Sorenson, a long-time human resources practitioner from Jacksonville who serves as President-Elect of the HR Florida State Council, representing more than 15,000 HR professionals statewide. Sorenson said the Institute's mission is an excellent fit for the council, which is currently partnering with the National Alliance on Mental Illness on Stigma Free Florida, a program designed to increase knowledge and expertise in addressing employee mental health.
"Building awareness and support for Florida workers who face mental health challenges in the workplace is an important mission for our state council," Sorenson said. "Florida's HR professionals can play a critical role in working with business leaders, educators and others on these school and workplace safety issues, and we are honored to play an advisory role with the institute."
A third member of the Panel, Columbia County Sheriff Mark Hunter, is also President of the Florida Sheriff's Association. Hunter said issues related to school and workplace safety are paramount for the state's 67 sheriffs and noted that communication and collaboration among various stakeholders – business leaders, educators, health professionals and the general public – is an essential element to making Florida's communities safer.
"As law enforcement officers, our goal is always to work in partnership with our communities to help assure that best practices in safety are used and that risks are identified before they materialize," Hunter said. "This institute will help to foster ongoing dialogue and resource sharing on important questions related to safety.
While the institute will be selective in the legislation it weighs in on, it does support the common-sense policies and solutions resulting from the Marjory Stoneman Douglas High School Public Safety Act passed in the aftermath of that tragedy. The institute praised Senate President Bill Galvano, House Speaker Jose Oliva and former Governor Rick Scott for their leadership in passing the Act and looks forward to working with Governor Ron DeSantis, who has already made it clear that school safety is a top priority.
Additionally, while the institute will closely review any legislation that may impact the MSD Act, it is not seeking gun control.  The ISF supports responsible gun ownership, the U.S. Constitution and the property rights of schools and businesses. Its primary focus will be on enhancing the overall safety of schools and businesses and on sharing best practices and resources.
The ISF is encouraging interested Floridians to visit its website at SaferFL.org, to sign up for updates and to offer their ideas for making Florida's schools and workplaces safer. The ISF and Advisory Panel will review these submissions and make recommendations in the future to senior elected leaders.
For more information visit ISF's website at SaferFL.org.
Inaugural Institute for a Safer Florida
Advisory Panel members include:
Tim Moore, former FDLE Commissioner
The Integrity Group
Tallahassee, FL
Sheriff Mark Hunter, President of Florida Sheriffs Association
Columbia County
Lake City, FL
Cissy Proctor, former Director of the Florida Department of Economic Opportunity
LSN Partners
Tallahassee, FL
Lieutenant Shannon Black
Leon County Sheriff's Office
Department of Youth Services
Dr. Stacy Chambers
Executive Director
Florida State University Schools
Tallahassee, FL
Melanie Brown-Woofter
President/CEO
Florida's One Behavioral Health Association
Tallahassee, FL
Chad V. Sorenson, SPHR, SHRM-SCP
President-Elect
HR Florida State Council
Jacksonville, FL