Walk to Defeat ALS® at Philippi Estate Park on March 2, 2019
On Saturday, March 2nd, more than 350 people will gather at Philippi Estate Park in Sarasota to join the fight to find a cure for a deadly illness. ALS, also known as Lou Gehrig's Disease, progressively paralyzes its victims, attacking nerve cells and pathways in the brain or spinal cord, taking away their ability to walk, talk, eat and eventually breathe. ALS has no known cause or cure, but the Sarasota community is rallying together to change that.
One of those participating again this year is Andrea Cannistra who lost her mother, Kathy Cannistra, to ALS in 2011.  Participating now in her eighth year with family and friends, Team Kathy Cannistra has raised more than $115,000 so far, and continues to raise funds and awareness for people living with ALS in Florida. "The ALS Association Florida Chapter helped my family get through a tough time, being there for us when she was sick with resources, counseling, and even equipment to make her more comfortable," said Andrea. "Their support and guidance over the years means so much to us and we want to do whatever we can to support their efforts in bringing awareness and donations to other families like ours."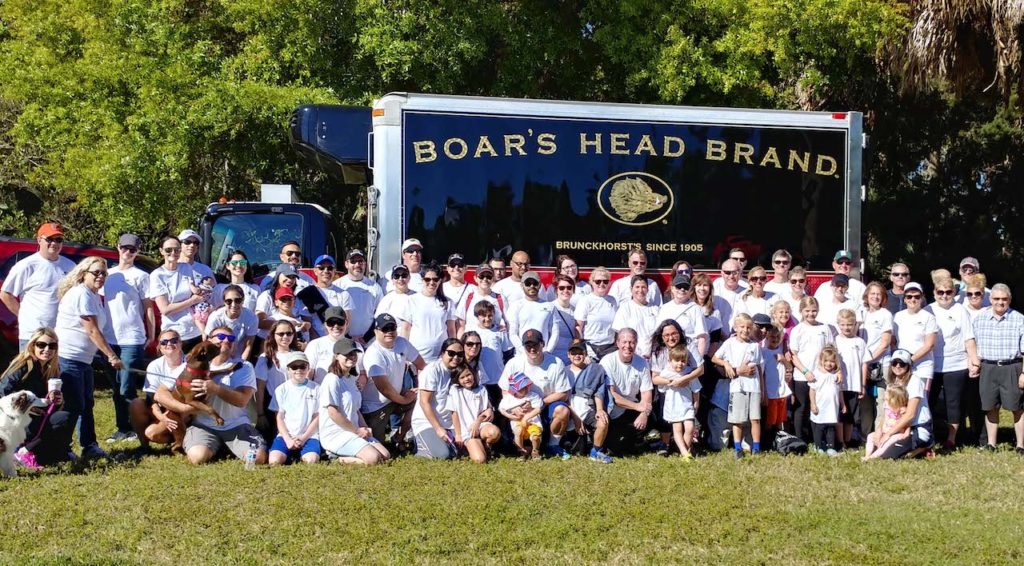 "This kind of community support truly represents what the Walk to Defeat ALS® is all about," said Julie Niehoff, Director of Communications for The ALS Association Florida Chapter. "These events give hope and help to people affected by ALS and show them they are not alone in their fight."
Wheelchair-bound patients along with their families and friends will make a 2-mile trek in The Walk to Defeat ALS®, hoping their steps will make a difference for ALS patients living in Florida. Many who walk have a loved one who is still fighting the deadly disease. Others walk in memory of a loved one who has lost the battle. Many people, without any personal connection, still walk out of a simple concern for those who are suffering with Lou Gehrig's Disease.
With only two to five years to live, these patients have an urgent need, and the community is stepping in to fill it by walking for those who cannot. The Walk to Defeat ALS® is The ALS Association's signature event in which all funds directly support cutting-edge research, programs and patient care. Last year, these events raised more than $1 million around the state of Florida.
All interested walkers should call 888-257-1717 ext. 114, or register online at WalktoDefeatALS.org.
The Quick Facts
What: 2019 Sarasota Walk to Defeat ALS®
When: Saturday, March 2, 2019
9:00am – Registration 10:00am – Walk Begins
Where: Philippi Estate Park
5500 S Tamiami Trail, Sarasota, FL 34231
Why: To raise funds and awareness for ALS, also known as Lou Gehrig's Disease, a progressive, fatal
neurodegenerative disease. There is no known cause or cure for ALS. All proceeds raised will support patient care and comfort, as well as research for treatments and a cure.
For more information: Go to WalktoDefeatALS.org, or call Kate Sanstrom, Regional Development Manager, at 888-257-1717 ext. 115, or email: [email protected].
About The ALS Association Florida Chapter
The ALS Association Florida Chapter, ALSAFL.org, offers care to people living with ALS in Florida and funds research to find the cause and cure. We are part of a nationwide network of local ALS Association chapters with the same vision – a world without ALS. Through care, advocacy, research, education and support, we work to empower those with ALS to live fuller lives. Every year, The ALS Association invests millions of dollars in research conducted by the best and brightest scientists in the world. As the only national not-for-profit health organization dedicated solely to the fight against ALS, we give help and hope to those facing a devastating disease.