Commissioner Nicole "Nikki" Fried today participated in a gas pump skimmer inspection to highlight National Consumer Protection Week, March 3-9, 2019.
National Consumer Protection Week is a nationwide effort to help people understand their consumer rights and make well-informed consumer decisions. Commissioner Fried was joined by Inspector William Snipes, Division of Consumer Services; Richard Kimsey, Assistant Director, Division of Consumer Services; Lt. Colonel Daniel Williamson, Assistant Director, Office of Agricultural Law Enforcement; and Maj. Mike Whitman, Bureau Chief of Investigative Services, Office of Agricultural Law Enforcement.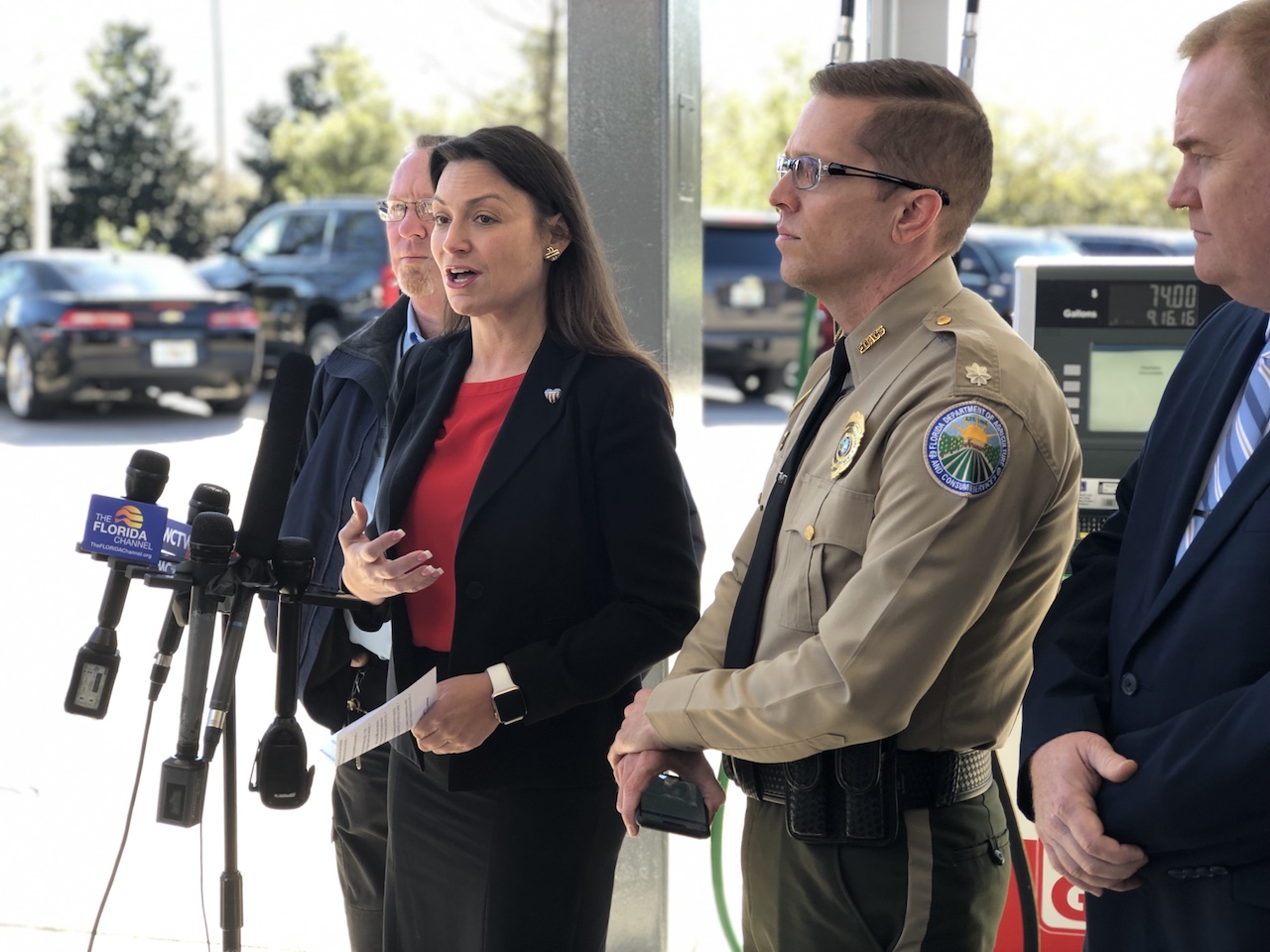 Skimmers – small electronic devices illegally installed inside gas pumps – first began to appear in Florida in 2015 and have grown exponentially since. The Florida Department of Agriculture and Consumer Services' Bureau of Standards inspects 464,000 gas pumps at 19,000 gas stations, truck stops, and marinas each year, and has removed 2,400 skimmers since 2015. The Bureau also inspects pumps for safety and accuracy.
Skimmers can be undetectable to consumers because of their location inside gas pumps, and have a potential for $1 million in fraudulent credit card charges per skimmer. They range from simple devices that clamp onto internal wiring that criminals must later retrieve, to sophisticated devices that deliver stolen credit card data via Bluetooth and automated text messaging.
Commissioner Fried also highlighted Senate Bill 1652 and House Bill 1239, common-sense bipartisan legislation that establishes the Consumer Fraud, Identity Theft, and Skimmer Working Group. This statewide interagency task force will work to develop solutions to the growing issue of skimmers, with members appointed by Cabinet officials, the House and Senate, fraud victims, credit card companies, consumer advocates, industry groups, and others. Florida has the highest fraud rate per capita in America with $84 million in fraud losses last year, an average of $400 lost per consumer.
"One of my top priorities is elevating consumer services to the forefront of our Department – that includes protecting Floridians from scams, fraud, abuse, and theft," said Commissioner Fried. "National Consumer Protection Week is a great opportunity to remind consumers to be vigilant, know their rights, and when in doubt, make a call. And to criminals, let me be clear – if you install these illegal skimmers on gas pumps in Florida, we will investigate, you will be caught, and you will be prosecuted. Our Department's law enforcement professionals are working hard to thwart these criminals every day, our inspectors are checking thousands of gas pumps daily for these devices, and our new task force will bring our state's best together to attack this problem head-on."
"Florida has one of the highest rates of credit card fraud in America, and we take very seriously our responsibility to investigate and help stop that activity," said Lt. Colonel Williamson. "Working closely with the Florida Department of Law Enforcement, the Office of Statewide Intelligence, and other law enforcement entities, we're focused on not only shutting down the crime rings installing these devices, but also the associated crimes of credit card fraud, fuel theft and unlawful fuel conveyance, and other illegal profit chains. Because to our investigative efforts, we are continually developing intelligence to share with our local, state, and federal partners to strategically identify and combat this type of criminal activity."
According to Commissioner Fried and the Department of Agriculture and Consumer Services, here are five ways to avoid credit card fraud by gas pump skimmers:
Take a close look at the pump: Avoid using pumps that are open or unlocked, have had the tamper-evident security tape cut or removed, or otherwise appear unusual. Some newer pumps may also have encrypted credit card readers – look for an illuminated green lock symbol near the credit card reader.
Use a credit card – not a debit card: If a credit card number is skimmed, you're protected by the card issuer's zero-liability policy – but a stolen debit card number could be far more damaging. If you must use a debit card, choose to use it as credit, instead of selecting debit and entering your PIN.
Pay inside, with cash or credit, instead of at the pump: It takes just seconds for criminals to place a skimmer in a gas pump – but it's far less likely that a fraudster placed a skimmer on the payment terminal in front of the clerk inside the gas station or convenience store.
Choose gas pumps closest to a physical building: Don't use gas pumps out of the attendant's line of sight, such as those around a corner or behind a building.
Check your card statements and sign up for fraud alerts: Nearly every credit card issuer offers fraud alerts, and many will email or text you when your card is used at a gas station. Check your credit card and debit card transactions frequently to make sure no fraudulent activity has occurred.
When in doubt, consumers should contact the Florida Department of Agriculture and Consumer Services – all consumer complaints will be investigated. To file a consumer complaint, visit FloridaConsumerHelp.com or call 1-800-HELP-FLA or 1-800-FL-AYUDA (in Spanish).