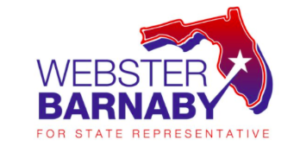 The former state representative says Barnaby is a rock-solid
conservative who will serve Florida House District 27 well.
The Webster Barnaby Campaign today announced the endorsement of former State Representative Fred Costello, who served in the Florida House from 2010 to 2012 and 2014 to 2016. Barnaby, a former Deltona City Commissioner, announced his candidacy to succeed Representative David Santiago last month.
"I'm very happy to endorse Webster Barnaby," said Costello. "He knows the issues, is a passionate advocate for states' rights, and is well-versed in the proper roles of our state, local, and federal governments. He is a rock-solid conservative, and I am confident he will represent District 27 with honor and distinction."
Costello, a dentist, represented the 25th District in the Florida House from 2010 to 2012 and later held the District 26 seat from 2014 to 2016. Previously, he served on the Ormond Beach City Commission from 1999 to 2002, serving as mayor from 2002 to 2010.
"I'm honored to have the support of a proven conservative leader like Fred Costello," said Barnaby. "I look forward to working with him on issues of mutual concern like protecting human life, preserving our Second Amendment rights in Florida, and continuing to promote strong and steady economic growth."
Paid by Webster Barnaby, Republican, for State Representative