Dr. Simon Rhodes has accepted the University of North Florida's offer to become the University's provost and vice president of Academic Affairs.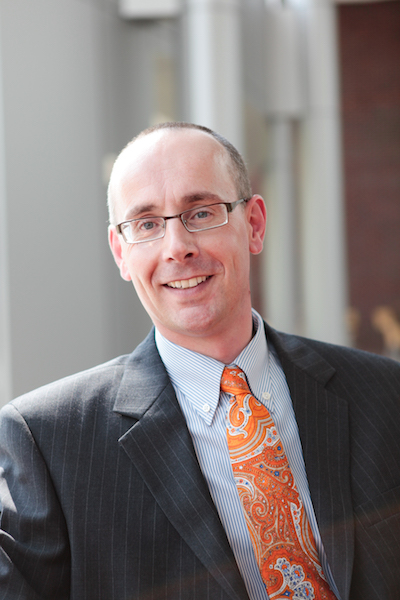 Rhodes will officially begin the position June 30 and will become the University's chief academic officer. He will lead UNF's Academic Affairs and will work closely with the president and the Board of Trustees in charting the University's future course. He was selected from a pool of 130 candidates in a national search.
"Simon's proven track record in student success and faculty innovation make him a great fit for the University," said UNF President Dr. David Szymanski. "He has phenomenal experience as a problem-solver and we're confident that his leadership will make UNF an even stronger institution."
As provost, Rhodes will oversee more than 560 full-time faculty members and six colleges: Brooks College of Health, Coggin College of Business, Arts and Sciences, Computing, Engineering and Construction, Education and Human Services and Hicks Honors College. Nearly 16,500 students attend UNF.
He'll also be responsible for integrating Academic Affairs, Student Affairs and Enrollment Management as well as advancing the teaching, research and service mission of the University. Rhodes will work closely with faculty and staff to articulate the objectives and the methodologies for institutional change.
Rhodes is currently dean of science at Indiana University-Purdue University Indianapolis, where he is responsible for an approximately $73M budget and oversees 185 faculty, 2,500 undergraduate students as well as hundreds of graduate and doctoral students.
Under his leadership, there have been a record number of science degree graduates each year since 2012, with 10 percent increases per year. Rhodes worked with his college to build successful new undergraduate degree programs, such as neuroscience and applied computer science, and to create new school-wide doctoral programs and curriculum in the School of Science, with a total of 10 doctoral programs currently in the school.
He has also increased merit- and need-based scholarships for science majors and instituted a "last mile" scholarship for students experiencing hardship during the final phase of their studies. Rhodes has brought in record levels of research funding and established a "near miss" grant program for faculty that have high scores for federal research proposals but weren't funded.
Additionally, he has initiated new search and screen procedures to improve faculty diversity. Rhodes increased funding for the successful Diversity Scholars Research Program and had fundraising success to provide scholarships to increase the representation of ethnic groups and women in specific disciplines.
He has received numerous awards and honors including the Norman Brown Diversity Scholars Program Mentor of the Year and the Dr. Joseph T. Taylor Award for Excellence in Diversity, to name a few.
Rhodes earned his doctorate in biological sciences from Purdue University and a bachelor's degree in biochemistry from the University of Sheffield in the United Kingdom.
He replaces Dr. Pam Chally, who has been serving as interim provost following Dr. Earle Traynham's retirement from the University in the fall of 2017.