Florida Polytechnic University announced plans to build another iconic building on its campus that will serve as a research hub for the Central Florida region, becoming a magnet for high-tech development around the school. The final details and renderings of the project were presented at the Board of Trustees meeting on Wednesday, March 13.
The 85,000 square foot Applied Research Center (ARC) will house cutting-edge research and teaching laboratories, student design spaces, conference rooms, and faculty offices. The building will also provide study areas for graduate students, and a small amount of administrative space.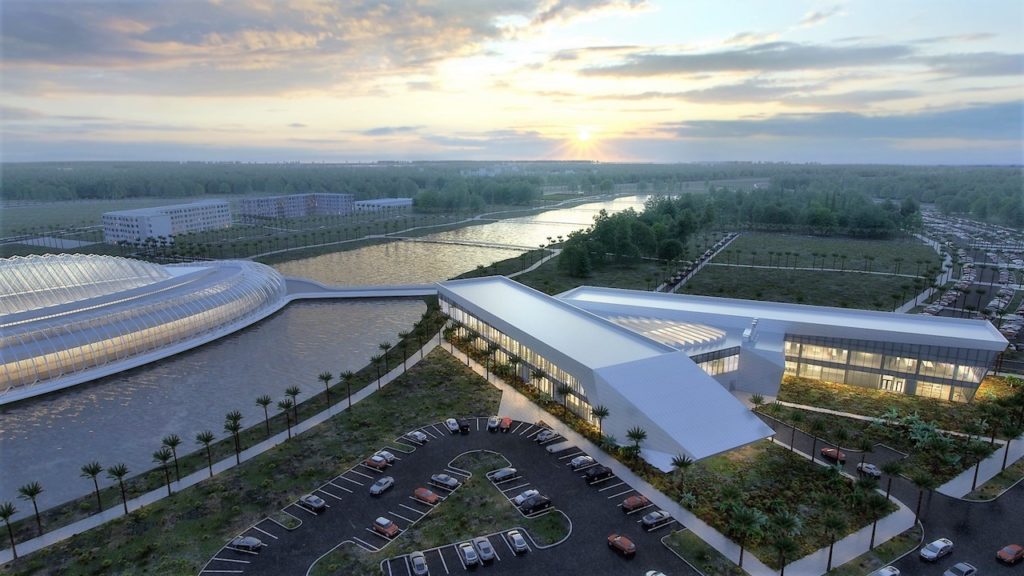 The two-story building will be located on the northwest side of campus adjacent to the Innovation, Science, and Technology Building and will also be visible from I-4.
"The ARC is a critical facility that will be essential to our ability to fulfill the University's mission to produce industry ready students, perform applied research, and support economic development in Florida," said Dr. Terry Parker, provost and executive vice president of Florida Poly. "The building will provide the needed physical infrastructure for research success and is crucial to recruiting new research-active faculty."
The ARC will be Florida Poly's second academic building. It was designed by the architecture firm HOK with the goal of creating a dynamic, functional, and flexible space that will promote research growth, entrepreneurship, collaboration, and connectivity amongst the campus.
Construction is set to begin in August 2019 and will take two years.
"The Applied Research Center will be an integral element in growing a high-technology economy around campus," said Dr. Randy K. Avent, president of Florida Poly. "The ARC will provide the research labs and facilities to attract research talent, capital investment, and enhanced partnerships."
About Florida Polytechnic University 
Florida Polytechnic University is an accredited member of the State University System of Florida, dedicated exclusively to STEM (Science, Technology, Engineering and Mathematics). The University is a powerful economic engine within the state of Florida, blending applied research with industry partnerships to give students an academically rigorous education with real-world relevance. The campus is located in Lakeland, Florida along the I-4 High Tech Corridor. Connect with Florida Poly.