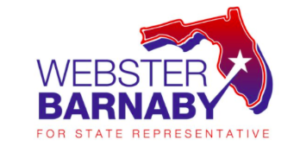 The former Volusia County Republican Party chairman says
Barnaby's conservative convictions and exemplary character make
him well-suited to represent District 27 in the Florida House.
The Webster Barnaby Campaign today announced the endorsement of former U.S. Ambassador Stan Escudero. Barnaby, a former Deltona City Commissioner, announced his candidacy to succeed Representative David Santiago in District 27 in the Florida House of Representatives last month. Escudero's support comes on the heels of former State Representative Fred Costello's endorsement of Barnaby last week.
"I'm proud to support Webster Barnaby," said Escudero. "My experience convinces me that he is the solid, reliable, conservative leader the district needs to represent us and push our interests and needs in Tallahassee. I know Web to be a sound conservative Republican, a good Christian gentleman of exemplary character, a master of finance and economics, and a wise man who understands the art of working with others. In short, he's exactly the sort of representative we want."
Escudero, a Daytona Beach native, had a long and distinguished career as an American diplomat, including a stint at the U.S. Embassy in Tehran, Iran in the 1970s. He served as U.S. Ambassador to Tajikistan from 1992 to 1995, U.S. Ambassador to Uzbekistan from 1995 to1997, and U.S. Ambassador to Azerbaijan from 1997 to 2000. He is also the former chair of the Volusia County Republican Executive Committee.
"I'm thrilled to have Ambassador Escudero on our team," said Barnaby. "His life and career have been a model of dedication to protecting, preserving, and spreading our shared commitment to the American ideals of liberty and free enterprise. His vote of confidence in me means a lot, and I am grateful for his service to our nation and for his support of our campaign."
Paid by Webster Barnaby, Republican, for State Representative