The L. Gale Lemerand Entrepreneurial Speaker Series kicks-off a busy day of activities on Daytona State College's Daytona Beach Campus, followed by the annual spring job fair where more than 100 businesses from a variety of industries will be on hand seeking to fill vacancies.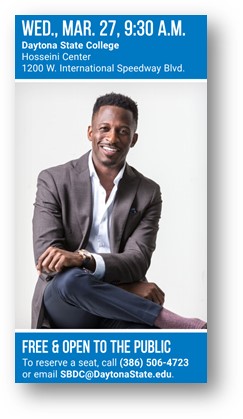 Presented in partnership with the Small Business Development Center, the featured speaker for the spring presentation is Charles Clark, a world-class athlete, international keynote speaker, writer, success coach, business consultant and entrepreneur, and CEO of the business consulting firm Charles Clark International. Clarks' expertise in leadership, passion, grit, and psychology has allowed him to effectively deliver speeches and trainings to an extensive range of organizations. He has provided over 500 event presentations over nine years for companies including Frontier Communications Corporation, Dicks Sporting Goods, Nike, iHeart Radio, Raymond James Financial, Leukemia & Lymphoma Society, and NCAA college sports teams.
"The event is free and open to the public, plus we're expecting large delegations from both Volusia and Flagler county high schools," states Jim Deering, director of the SBDC.  "Charles' presentation combined with scholarship awards should make for a stimulating morning."
The event starts promptly at 9:30 a.m. in the Mori Hosseini Center (bldg.. 1200) on the college's Daytona Beach Campus, 1200 W. International Speedway Blvd.
For more information about the speaker series, call or email (386) 506-4723, [email protected].
The spring job fair is set for 11 a.m. to 2 p.m. in the L. Gale Lemerand Center (bldg.. 310) also on the Daytona Beach Campus, 1200 W. International Speedway Blvd. Admission is free; all are welcome.
Participating employers include Boston Whaler, Centra Care, Daytona Beverages, DME Delivers, Florida Health Care Plans, Florida Veterans Nursing Home, Gary Yeomans Honda, Halifax Health, Heartland Dental, Hilton Garden Inn Ocean, International Speedway Corporation, J&P Cycles, James Moore & Co., Massey Services, Inc., National Broadband, SMA Healthcare, Synergy Billing, Teledyne Oil & Gas, Total Quality Logistics, US Foods, Volusia County Schools, Votran and Walgreens.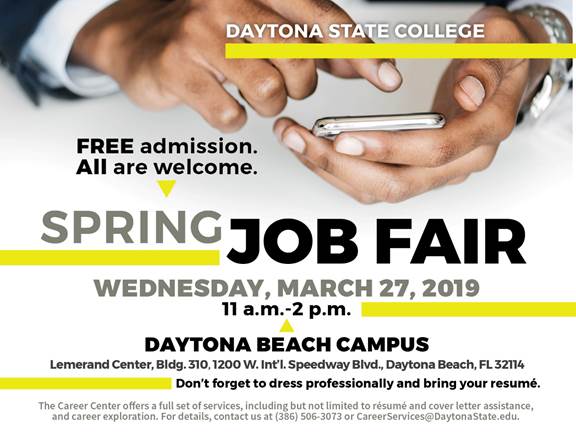 Prior to the job fair, current DSC students and alumni are welcome to visit the college's Career Services Department  for assistance with resume and cover letter writing, interview preparation and other free services.
For additional information regarding the job fair or DSC's Career Services, contact [email protected], (386) 506-3379.