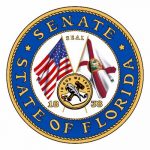 $1.1 Billion Increase in K-12 Funding, $1.8 Billion Total State Investment in Hurricane
Michael Recovery, $656 Million Investment in Water Quality and Protection
The Florida Senate Committee on Appropriations, chaired by Senator Rob Bradley (R-Fleming Island), today filed SPB 2500, a proposed budget for the 2019-20 fiscal year. The balanced budget prioritizes Florida's K-12 education system, increasing funding for the Florida Education Finance Program (FEFP) by $1.1 Billion, including $600 million in flexible funding districts can utilize for teacher pay increases. The budget also increases the total state investment in Hurricane Michael Recovery to more than $1.8 billion, while investing $656 million in water quality and protection, and replenishing reserves to more than $3.4 billion in total state reserves.
Statement by Senate President Bill Galvano (R-Bradenton)
"I am grateful to Chair Bradley and our Appropriations Subcommittee Chairs for their diligent work in preparing this budget. I also appreciate the hard work of Senators Gainer, Montford and Broxson who worked tirelessly throughout the development of our budget to craft a comprehensive and aggressive Hurricane Michael recovery package that addresses the long-term recovery needs of our panhandle neighbors and ensures prudent fiscal management of state funds as we await the significant federal reimbursements for which we are entitled.
"This budget builds on Florida's commitment to Hurricane Michael recovery, bringing the total state investment in Hurricane Michael recovery to $1.8 billion. Specifically, the Senate is dedicating funding to restore critical life-safety services to panhandle communities, build and provide affordable housing options for displaced families, rebuild local government infrastructure, repair critical county and municipal roads and rebuild education facilities. Our K-12 Education budget includes additional funding to cover losses due to declined enrollment in impacted counties, and we also include funding to restore tourism and recreational opportunities and provide technical support for local governments to secure reimbursements.
"The tremendous amount of funding the state has invested in hurricane recovery placed significant constraints on our budget that guided every facet of our decision making in all other areas. Despite this significant challenge, I am pleased the Senate put forward a balanced budget that focuses on Florida's future, making a historic investments in K-12 education and replenishing state reserves severely depleted following Hurricane Michael. I am also pleased to see the Senate reaffirming our support for State Colleges and their vital mission in meeting the workforce needs of communities across our state. We also increased funding for research that will help us understand, prevent, and mitigate harmful algae and red tide, and set aside funds to plan for forward-looking investments in infrastructure that are critical to future security and economic growth."
Statement by Senator Rob Bradley (R-Fleming Island), Chair of the Senate Committee on Appropriations
"The Senate budget provides a historic increase in funding for Florida's K-12 public education system, increasing K-12 education funding by $1.1 Billion, which includes a per student increase of $350. This tremendous increase, coupled with the balanced policy changes advancing in the Senate this session will elevate traditional neighborhood public schools that have been the backbone of our education system for generations by supporting teachers and principals with $600 million in flexible spending that can be used for pay raises and over $230 million for merit-based bonuses. The budget also maintains our commitment to school safety with a 42 percent increase in the Safe School Allocation, and a 44 percent increase in the Mental Health Assistance Allocation.
"Our budget also makes critical investments to restore and conserve Florida's environment, including $656 million for water quality and protection. This includes a significant increase in funding for both red tide research and water quality improvements like septic-to-sewer. This critical funding will help Florida both mitigate the current damage caused by blue-green algae and reduce future problems. The budget also continues our commitment to faithfully implement the Water and Land Conservation Amendment passed by voters with significant funding for Florida Forever as well as funding for restoration of Florida's Everglades, beaches, and springs.
"We continue our state investment in the national distinction of Florida's higher education system by appropriating key funding for Florida's State Colleges and State University System, and maintaining historic investments in student financial aid. As Florida's colleges and universities continue to gain national acclaim, increasing our state investment in institutions of higher learning will ensure Florida has the workforce needed to further grow our economy.
"As we worked to develop this budget, one of our top considerations was the ongoing recovery from Hurricane Michael. As we reviewed the budget needs of impacted communities, the Appropriations Subcommittee Chairs and I worked closely with Senators Gainer, Montford, and Broxson to assess what outstanding recovery costs are reimbursable by insurance or the federal government; what costs are not reimbursable; and, what costs would be reimbursable by the federal government or insurance if not for the state funding those costs. Unlike the federal government, we have to pass a balanced budget every year and there is no question that significant outstanding reimbursements cause substantial restrictions in other areas of our budget. I believe we have put forward a solid plan at the state level to ensure long-term sustained recovery for Florida's panhandle; however, this does not lessen the federal government's role or their responsibility as our partner in this effort moving forward."