Florida Polytechnic University student Christian Lomenzo is the new EA Madden NFL 19 Challenge champion, after surprising the sports gaming world with an incredible play in overtime that sealed his victory and a $35,000 grand prize. The nationwide competition was held at the EA headquarters in Redwood City, California, on March 15-17.
Hundreds of thousands of players from all over the country compete for months through online eliminations trying to qualify, and only the top 16 make it to the live Madden Championship Series (MCS). The finalists this time included well-known names in the competitive Madden world, including the defending champion Drini Gjoka and four other former MCS winners.
"I was just taking it one game at a time while everyone was picking against me," said Lomenzo, a junior majoring in business analytics. "I definitely felt like the underdog."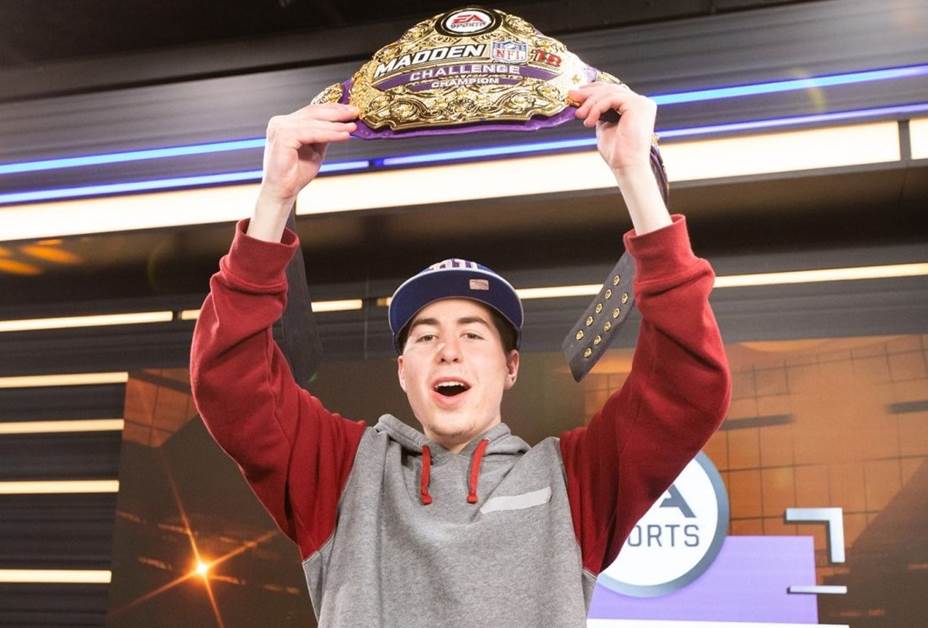 The final game was a nail-biter until the very end, when Lomenzo pulled off an 80-yard walk off touchdown in overtime that crowned him the new champ. "I didn't expect to win, but I came out on top," said the 20-year old from Tampa, Florida.
Lomenzo may have been an unknown name on the list of finalists, but he faced the odds fully prepared to win.
"I had a strategy coming into each game. I studied my opponents a decent amount to know what they wanted to do and tried to exploit that," said Lomenzo, who failed to make the tournament for the last two years. "Madden is a mind game. You have to think about what your opponent will do and keep adjusting your game to stop it."
That quick thinking approach to problem solving is one of the many skills that makes Lomenzo a perfect fit for Florida Poly. He said the University fosters an environment in which students feel constantly challenged and supported at the same time.
"They teach us here to think outside the box and find solutions that are not typical," said Lomenzo. "We are all hard working students with the same goals and we're all kind of different from the norm."
By being the new Madden 19 Champion, Lomenzo gets the opportunity to defend his title in the upcoming Madden Bowl in late April, when he'll get to travel to California once again with all expenses paid. The grand prize this time? $40,000.
Best of luck to this rising Phoenix!
For the most recent university news, visit Florida Poly News.
About Florida Polytechnic University 
Florida Polytechnic University is an accredited member of the State University System of Florida, dedicated exclusively to STEM (Science, Technology, Engineering, and Mathematics). The University is a powerful economic engine within the state of Florida, blending applied research with industry partnerships to give students an academically rigorous education with real-world relevance. The campus is located in Lakeland, Florida along the I-4 High Tech Corridor. Connect with Florida Poly.