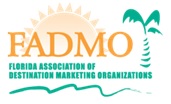 The Florida Airports Council is expressing concerns about the Florida Legislature cutting funding for VISIT FLORIDA according to a recent article in The Capitolist. Any reduction in funding to VISIT FLORIDA will result in a decrease in visitors flying through Florida airports. A downturn in visitation to Florida and the resulting decline in Florida air travel will mean lost jobs and negative impacts to businesses serving the airline industry.
More than half of Florida's annual visitors arrive by air. Cuts to the state's tourism promotion budget will mean far fewer visitors and will have severe impacts on Florida's airports.
The Florida Senate has currently allocated $50 million for VISIT FLORIDA – down from its current funding level of $76 million. The Florida House of Representatives has allocated $19 million – just enough to keep the organization operational until its sunset date of October 2019. While the Florida Senate has progressed a bill that would reauthorize VISIT FLORIDA, the Florida House of Representatives has not taken action on a similar bill in its chamber. If VISIT FLORIDA is not reauthorized, it will be dissolved and local communities' tourism-reliant businesses will no longer have access to the successful advertising, promotional programs and resources VISIT FLORIDA provides.
Read the full article below.
---
Florida airports sound economic alarm, call for lawmakers to fully fund Visit Florida
Of the more than 116 million estimated visitors arriving to Florida every year, more than half arrive by air, according to statistics published by Visit Florida, the state's cutting edge marketing agency whose mission is to attract more tourists every year.
That is why the president of Florida's Airports Council, which represents the state's 120 airports, is urging state lawmakers not to slash funding for Visit Florida. As House and Senate members debate budget priorities, Governor Ron DeSantis has requested $76 million for the agency, which uses the money to promote Florida tourism in creative and effective ways, including through pop culture channels such as cooking and fishing television shows and other efforts. The campaigns have been largely successful in recent years. Last year alone, the state broke all records for tourism, attracting 3.6 percent more visitors than the previous year. And any decrease in funding, experts say, could quickly result in devastating job losses for hospitality workers, especially in cities like Orlando, Tampa and Miami.
The Florida Senate is only proposing $50 million in funding for Visit Florida, and the picture is even more bleak in the Florida House, which is currently only proposing $19 million. The House and the Senate must ultimately agree on the right amount, then send the full budget to DeSantis for signature.
Because so many visitors flow through Florida's airports, the economic devastation to even a small decrease in tourism could be far reaching. According to a report released by the Florida Department of Transportation this month, Florida's airports generated more than 174 billion dollars in economic activity. A downtick in tourism would have a ripple effect throughout the state.
"Our members have a strong interest in the work done by Visit Florida, since a decline in tourism would of necessity mean a decline in air travel – and with it, jobs in transportation and associated industries and businesses," said Airports Council President and CEO Lisa Waters in a letter to legislative leaders. "Visit Florida does an excellent job spreading the good word about our wonderful state and marketing it to potential tourists both near and far."