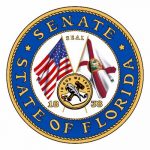 Earlier this week, Senator Keith Perry (R- Gainesville) passed a provision through the Senate Infrastructure & Security Committee to enhance Booster Seat safety by requiring children to ride in a booster seat through the age of six. Senator Perry was joined by parents, advocates and bi-partisan supporters of SB476 on Tuesday to highlight the need to pass this legislation that moves to protect Florida's most vulnerable passengers.
"Studies have shown that when child safety seats are used correctly, they can reduce fatal injuries by over 70 percent for infants and by 54 percent for toddlers," Senator Perry said. "Extending the protection of booster seats through the age of six is a simple, common sense safety measure that will save countless lives."
Current law requires children under the age of five being transported in a motor vehicle to be secured in a crash-tested, federally approved child restraint device, and in a booster seat through the age of five. The National Highway Traffic Safety Administration recommends that children remain in booster seats until a seat belt can be worn properly, which occurs when an individual reaches 57 inches, the average height of eight year olds.
Karen Morgan, AAA: "Safety belts are designed for adults and do not fit properly on young children," said Karen Morgan, AAA – The Auto Club Group. "AAA is calling for state legislators to take action and support legislation that would protect children by requiring they be properly restrained in an appropriate safety seat through age six. Protecting our children is basic Traffic Safety 101. On matters of public safety, Florida's parents look to public policy for solid guidance. That's why improving this law is so important."
Junior Leagues of Florida Chair Tracy Deen: "The Junior Leagues of Florida State Public Affairs Committee has been advocating for issues of importance to Floridians for 45 years. Since 2001, we have supported legislation designed to protect Florida's children by securing them safely with booster seats. We are proud to continue that tradition today by supporting the efforts to extend booster seat protection to six year olds."
For more information on Senator Keith Perry, visit FLSenate.gov.