Nearly 400 people converged on the new L. Gale Lemerand Student Center at Daytona State College on Sunday for the DSC Foundation's first-ever Food and Wine Festival fundraiser.
The sellout crowd feasted on tapas-style fare served by nearly a dozen area restaurants as well as students attending DSC's Mori Hosseini College of Hospitality and Culinary Management. Proceed from the event support DSC's initiative to curb hunger and homelessness among its students.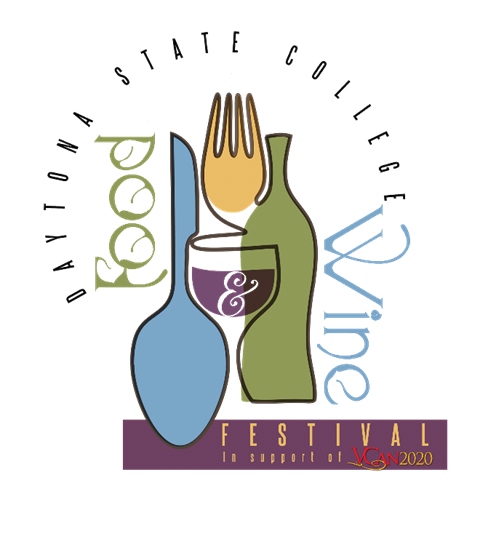 The festival was the first event to be held in DSC's 84,000-square-foot student center, which opened just last month to serve as a place where students can seek academic support and resources, such as the library and career advising, and enjoy various amenities such as the college's dining hall, offices for student clubs and a gaming center.
"This is a place where students can socialize and interact with their peers, faculty and college staff, and access the resources and guidance they need to stay on track," said DSC President Tom LoBasso. "We know that students who are engaged in college life are more likely to achieve academic success and complete their degrees, and that has been the whole strategy behind the design and construction of this building from the very start."
The president also spoke of the mission behind the evening's fundraising event. "We also know that hunger and homelessness have increasingly become barriers to student success at colleges and universities across the nation. This evening, we come together to support and advocate on behalf of the estimated 69 percent of Daytona State students who live at or below the state poverty level, many who wrestle with food insecurity or lack a bed they can call their own."
The evening was just part of DSC homelessness initiative, which was inspired by board chair Forough Hosseini, whose vision and leadership have been the impetus for a similar, communitywide effort.
DSC has established a Falcon Fuel Grab & Go Food Pantry operated by its Center for Women and Men, where students can pick up a free, quick snack or even a meal to prepare at home. Students have access to a clothes closet they can use to prepare for job interviews; a book lending library; supplies, free printing and test fees; free emergency Votran bus transportation and free or low-cost healthcare and more through the college's collaboration with Hope Place and Halifax Urban Ministries.
"We are trying to address every issue that our students might have and remove obstacles to their education," said LoBasso in thanking guests for their support. "Together, we are making a difference in the lives of so many of our students."
ABOUT DAYTONA STATE
Offering more than 100 certificate, associate and bachelor's degree programs, Daytona State College has responded to the education and workforce training needs of Volusia and Flagler counties and beyond for more than 60 years. The college enrolls nearly 28,000 students a year at its seven instructional sites, with graduates serving in critical fields including health care, emergency services, business, education, hospitality, engineering, technology and more.
Daytona State has been recognized as a leader in higher education numerous times, consistently by U.S. News & World Report, which ranks the college among the Top Tier Best Online Bachelor's Programs  seven years running. The U.S. Department of Education's College Affordability and Transparency Center has ranked DSC among the top 50 most affordable public four-year institutions in the country, with less than half the tuition of the national average. Community College Week, a leading publication in higher education, annually continues to feature the college in its list of Top 100 Associate Degree Producers. And for three years in a row, U.S. News & World Report has ranked DSC among its Top Online Bachelor's Programs for Veterans.