The Board of Directors for Enterprise Florida, Inc. (EFI) met Tuesday on the campus of Florida A&M University to map future initiatives and opportunities. Governor Ron DeSantis, chairman of the Board, addressed directors on his vision for future economic growth and opportunities.
"I enjoyed addressing the board of Enterprise Florida to discuss ways we can continue to increase opportunities for Floridians," said Governor Ron DeSantis. "The private sector plays an integral role in our success and I appreciate the work Enterprise Florida does to drive business to our state."
"Florida's future is bright, our governor is bold, and Enterprise Florida is ready to be the go-to hub for the insight and intelligence we will need for the economic growth and diversification that our citizens deserve,"said Joe York, Vice Chairman of the Enterprise Florida Board of Directors.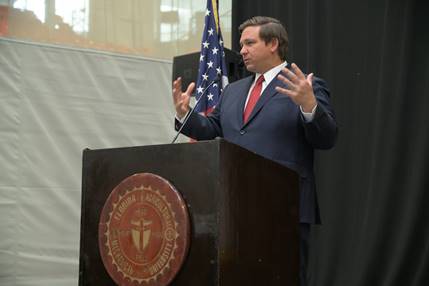 The Board also received updates on Opportunity Zones and EFI strategies for financial services and aviation/aerospace industry job creation in Florida.
"As we sit here at the end of the first quarter in 2019, we are a better organization with a distinct mission and we aim to keep getting better," said Jamal Sowell, President and CEO of EFI. "Governor DeSantis is committed to undertaking some pretty bold ventures on behalf of Floridians, and EFI is orienting itself to execute his strategy."
About Enterprise Florida
Enterprise Florida, Inc. (EFI) is a partnership between Florida's businesses and government leaders and is the principal economic development organization for the state. EFI facilitates job growth through recruitment and retention; small business growth through international trade and exporting programs; promotion of sporting events; promotion and protection of Florida's military bases; and capital funding programs to assist small and minority businesses.