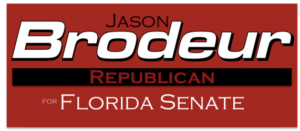 Local Education Leaders Cite Brodeur's Commitment to Putting Students First
Jason Brodeur was raised in a household focused on education. His mother taught fourth grade at Casselberry Elementary School for 24 years and reinforced the value of a great education to Brodeur at a very young age.
"My mother was the epitome of a great teacher, someone who cared about her students like they were her own children," Brodeur says. "With Governor Ron DeSantis focused on reforming our education system and building it to be the greatest in the nation, I look forward to being part of the change coming as part of the Florida Senate."
Having worked closely with Brodeur as the state legislator for District 28 and as CEO/president of the Seminole County Regional Chamber of Commerce for nearly a decade, four members of the Seminole County School Board have endorsed Brodeur as the next state senator for District 9.
"Our students have always come first for Jason Brodeur," said School Board Chair Tina Calderone. "His dedication to improving education and empowering teachers and families has helped Seminole County become a model school district in Florida. I am honored to endorse his campaign for the Florida Senate."
"Jason Brodeur was a strong advocate for less testing and support for The Seminole Solution," said School Board Vice Chair Karen Almond. "He also was instrumental in bringing additional dollars for programing within Seminole County, specifically the Manufacturing Program at Lake Mary High School and the Aeronautics Program at Seminole High School.
"As a product of Seminole County Public Schools, Jason is committed to keeping Seminole County one of the best districts in this state," she added. "I am proud to offer him my endorsement."
"Jason cares about our students," said Member Amy Pennock. "His efforts to ensure a quality education for all students have made an immediate impact on families in our community, and I'm confident in his ability to continue fighting to improve education in the Florida Senate."
Finally, Member Abby Sanchez added: "Jason's commitment to public education has not gone unnoticed in our community. As our voice in Tallahassee, Jason has led the fight for legislation putting students first and helping maintain Seminole County's reputation as one of the best school districts in the state. Jason will make a great state senator!"
The endorsements from the school board members follows the bi-partisan endorsements of all seven mayors in Seminole County.
"These women are all principled leaders who are focused on making Seminole County Public Schools the best in the state and I have always appreciated their dedication to our students," Brodeur said. "I'm honored to have their endorsement and I look forward to being their strong voice in the Florida Senate."
Jason Brodeur was born in Daytona Beach, Florida and graduated from Oviedo High School. After working for Procter and Gamble for 11 years, Jason started his own health care consulting company headquartered in Sanford, Florida and is currently President/CEO of the Seminole County Regional Chamber of Commerce. For the 2017 -2018 Legislative Session, Rep. Brodeur was named Chairman of the House Health Care Appropriations Subcommittee.
Paid by Jason Brodeur, Republican, for State Senate