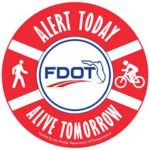 Media Availability for High Visibility Enforcement Operations on April 12
Safety doesn't happen by accident. The Florida Department of Transportation (FDOT) is partnering with agencies around the state to help improve bicycle and pedestrian safety.
Safety funding through the FDOT allows for law enforcement agencies to conduct High Visibility Enforcement (HVE) operations in the most needed locations throughout the state. HVE operations focus primarily on education to drivers, pedestrians, and bicyclists to increase awareness of and compliance with traffic laws that help ensure safety of pedestrians and bicyclists.
The City of Daytona Beach ranks fourth out of 101 cities in Florida for traffic crashes resulting in serious and fatal injuries to pedestrians and bicyclists. The Daytona Beach Police Department is one of the agencies in Volusia County to receive this funding and kicked off their HVE operations in March 2019. Their operations are planned to continue into May 2019 along Nova Road, International Speedway Boulevard, and Ridgewood Avenue. 
FDOT will be assisting the Daytona Beach Police Department on a HVE operations Friday, April 12, along Ridgewood Avenue. Media is encouraged to attend to see the operations in action. Daytona Beach Police Department and FDOT officials will be available for interviews.
To attend, please meet in the front lobby at the Daytona Beach Police Department, 129 Valor Blvd. Daytona Beach at 12:15p.m.
For more information or questions, please contact the District Communications Office, 386-943-5473 /[email protected].
When driving, walking, or bicycling, remember to pay attention and learn the rules. Learn more at alerttodayflorida.com.