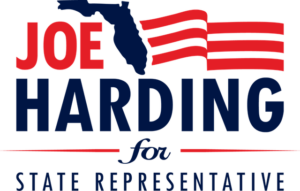 The Levy County Commission Vice Chair says Harding will be a strong
voice for economic growth for District 22 in the Florida House.
The Joe Harding Campaign today announced the endorsement of Commissioner Matt Brooks, Vice Chair of the Levy County Commission. Harding, a conservative Republican and seventh generation Floridian who was born and raised in Williston, announced his candidacy for the District 22 seat in the Florida House of Representatives in February. The seat is currently held by Representative Charlie Stone, who will not be seeking reelection in 2020 due to term limits.
"There's no question in my mind that Joe Harding is the right choice," said Brooks. "It's time for the next generation of leadership to step forward to guide Florida into the future, and Joe is very well prepared to be a strong voice for us in Tallahassee. As a small business owner, he understands our local economy and what it will take for us to make the most of our opportunities as well as overcome our challenges. His roots here are deep, and his strong relationship with our agriculture community also gives him clear insight into that important pillar of our economy. I'm confident we can count on Joe to represent us with energy and integrity, and I'm proud to support him."
Brooks was elected to the District 5 seat on the Levy County Commission in 2016 and currently serves as Vice Chair. He is a U.S. Army veteran and the owner of three businesses, Vision Quest in Charleston, South Carolina, and B4 Signs and Advertising and Shed Masters in Williston. Prior to that, he was Director of Marketing and Public Relations at Push America, a nonprofit organization that raised money and awareness for people with disabilities.
"I'm proud to have Commissioner Brooks's support," said Harding. "His commitment to economic revitalization, job growth, and public safety mirrors my own priorities. I'm grateful to have him on our team, and I look forward to working with him."

Paid by Joe Harding, Republican, for State Representative