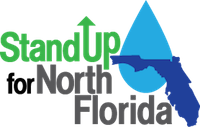 In a presentation to a Senate subcommittee today, the former congressman says the region is critical to the state's success and deserves adequate funding, particularly for the Panhandle following Hurricane Michael
Former Congressman Steve Southerland, Chair of Stand Up North Florida, today made a presentation to a Florida Senate committee about the ongoing economic and environmental needs of North Florida, particularly those related to recovery from Hurricane Michael. Stand Up North Florida is a grassroots coalition that was formed to advocate for equitable allocation of resources to the region. Southerland represented Florida's second congressional district in Congress from 2011 to 2015.
An eighth-generation Floridian and lifelong Panama City resident, Southerland made the case to the Senate Appropriations Subcommittee on Agriculture, Environment, and General Government that North Florida adds significant economic and environmental value to the state as a whole, despite its smaller population. He also noted the important role the region plays in our national defense as home to numerous military installations across the I-10 corridor.
Southerland movingly recounted the series of disasters, both natural and man-made, that North Florida has faced since 1992, including the net ban's impact on small coastal counties, Hurricanes Opal and Ivan, the painful closure of the Port St. Joe mill in 1999, and the 2010 Deepwater Horizon incident. But he told the committee that nothing compares to the devastation the region continues to suffer following Hurricane Michael in October of last year.
"People in my county, citizens, an hour and a half from where you sit today, are still living in tents…It's difficult to watch," said Southerland. ""I love these people, and they are hurting, and our story must be told."
Southerland noted that Michael destroyed 2.8 million acres of timber worth $3 billion, 69 percent of the homes in Panama City were damaged, the Bay County school system has lost 4,000 students, and the county's largest hospital has laid off nearly 1,000 people and 50 physicians have left the area. He also underscored the heavy financial toll debris removal and other storm-related services have taken on municipalities.
"Then, we move to fire threats," said Southerland. "Three weeks ago, we had our first fire. So after being knocked down, now we're being burned. Six hundred fifty acres burned in Bay County, and it hasn't started getting warm yet. These are the challenges that we are facing. In spite of these damages, Congress has failed to act. I have to kick the body I was a part of. Politics make me sick when people are hurting."
While natural disasters rightly garner attention, Southerland noted North Florida's need for ongoing equitable annual funding for important environmental projects like springs protection. The region is home to a majority of the state's springs, which are critical to our drinking water supply. However, he pointed out that 95 percent of state conservation dollars are spent south of Orlando each year.
Southerland also advocated important infrastructure projects, including road expansion that will help connect North Florida's rural areas. He specifically mentioned Stand Up North Florida's strong support for widening Highway 20, an important east-west corridor.
To watch the presentation, please click here. To learn more about Stand Up North Florida, please visit StandUpNorthFlorida.com.