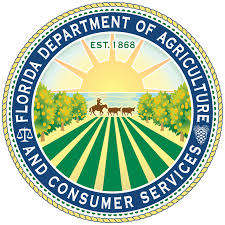 Commissioner Nicole "Nikki" Fried today sent a letter to every member of the U.S. House and U.S. Senate, along with key members of Congressional leadership, demanding that they pass Hurricane Michael disaster relief upon their return from recess on April 29.
197 days have passed since Hurricane Michael slammed into North Florida as a Category 5 hurricane, one of the most powerful storms to ever impact North America. The letter reminds Members of Congress of the devastation to families, businesses, and the agriculture community, and the ten-fold-higher risk of wildfires the region now faces, as the next hurricane season approaches in one month.
The letter, addressed to Speaker Nancy Pelosi, Senate Majority Leader Mitch McConnell, House Minority Leader Kevin McCarthy, Senate Minority Leader Chuck Schumer, House Appropriations Committee Chair Nita Lowey and Ranking Member Kay Granger, and Senate Appropriations Committee Chair Richard Shelby and Vice Chair Patrick Leahy, reads in part:
"When Congress reconvenes on April 29, the top priority of both chambers must be expeditiously passing a bipartisan disaster relief package to provide long-overdue relief to the Panhandle and other communities suffering in the wake of recent natural disasters. Every moment the people of Florida and our lands go without federal assistance, the threat grows of not only wildfires and future storms as the 2019 hurricane season rapidly approaches, but also permanent economic devastation."
The letter may be downloaded here or viewed below on Twitter: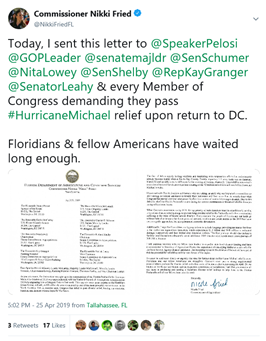 Commissioner Fried also shared with Members of Congress the mini-documentary video she released earlier this week, highlighting the devastation the region suffered and the challenges and threats remaining ahead. The video has been shared more than 2,000 times in the past few days.
Earlier today, Commissioner Fried participated in a bipartisan press conference with CFO Jimmy Patronis, Attorney General Ashley Moody, and state lawmakers, calling on Congress to pass federal disaster assistance.