Firm took home Grand All-Image Award for its Healthy Pools campaign,


10 additional honors during the PR industry awards event
Earning 11 total awards including the Grand All-Image, Sachs Media Group continued its 23-year legacy of excellence in the field of public relations and integrated communications campaigns during the Thursday FPRA Image Awards event in Tallahassee.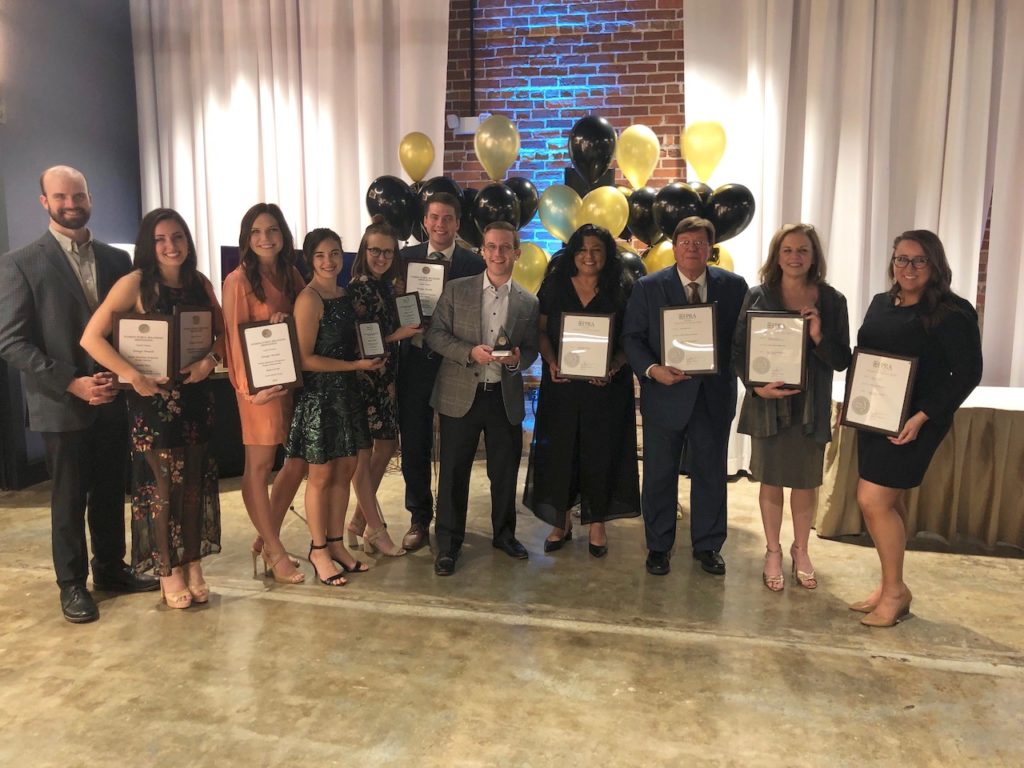 Conducted each year, the Florida Public Relations Association Image Awards competition offers public relations practitioners a primary platform to be recognized in their market for exceptional work in the industry.
"We are deeply proud to see the results we produce for our clients recognized and rewarded in this prominent way," said Michelle Ubben, President and Partner at Sachs Media Group. "It is the outcome of a dedicated and talented team and the trust of our amazing clients. While awards are excellent validation for a job well done, we always say the greatest measure of success is our clients' happiness."
The evening's highest honor, the Grand All-Image Award, went to the firm's Healthy Pools campaign on behalf of the Water Quality & Health Council. This campaign also took home an Image Award in the category of Public Service. The campaign was recognized for excellence in educating millions of public pool users about swimmer hygiene, empowering them to take more active roles in protecting themselves from waterborne illnesses. Exceptional outcomes included more than 100 media outlets covering the campaign and 15,200 people requesting pool test kits.
The agency received these additional accolades:
IMAGE AWARD in the Public Affairs category for the Stop Sea Piracy campaign
Floridians have a deep love for the state's pristine waters and spending time on them. However, when boat owners find themselves needing help from maritime salvage and towing companies, they are often hit with outrageous bills undisclosed prior to the assistance. Sachs Media Group executed a highly effective public affairs campaign in 2018 to make lawmakers aware of this issue of modern-day piracy.

JUDGES' AWARD and IMAGE AWARD in the Public Information category for REBUILD 850
Hurricane Michael was one of the most devastating storms to ever hit the Panhandle. Just three weeks after landfall, Sachs Media Group organized the REBUILD 850 campaign to jumpstart the long road to recovery. With support from former Florida House Speakers Allan Bense and Will Weatherford and former U.S. Representative Gwen Graham, this campaign highlights the importance of volunteering, donating, and investing in the region to restore it to its original beauty.

JUDGES' AWARD and AWARD OF DISTINCTION in the Public Service category for FWC and FDEP's Sea Turtle Awareness campaign
From 2015 to 2018, Sachs Media Group planned and executed a multi-year public education campaign about Florida Panhandle sea turtle nesting season. The seven-county campaign included research, advertising, public relations, and social media; garnering a 133 percent increase in awareness of sea turtle nesting season months by the campaign's conclusion.

AWARD OF DISTINCTION in the Public Service category for The Florida Bar's Protect Florida Democracy: Our Constitution. Our Rights. Our Courts campaign
When Florida convened its Constitution Revision Commission, which happens every 20 years, this mostly appointed body had the unique authority to place proposed amendments directly on the ballot. These recommendations had the potential to disrupt the independence of the judicial branch, especially with low citizen awareness and interest. The Protect Florida Democracy campaign helped significantly increase voter awareness and educated them about this important constitution revision process.

AWARD OF DISTINCTION in the Online Newsletter category for Sachs Media Group's What's Trending? email series
Sachs Media Group created the "What's Trending in Florida News" email series to provide a review of top stories from across the state in an easy-to-read format. The agency curated the Florida-centric articles, published by local and regional news outlets, that people engaged with most on Facebook and Twitter, providing readers both value and relevant content. The series also included a weekly leaderboard of Florida news outlets by how much engagement they generated each week on social media.

AWARD OF DISTINCTION in the Video – Internal category for Tyndall Federal Credit Union's Tyndall Forward Together video
Based in Bay County, Tyndall Federal Credit Union's mission is to make a meaningful difference in the lives of its members. After Hurricane Michael devastated the region that Tyndall services, Sachs Media Group sprang into action to help it execute a "Forward Together" campaign. The initiative included organizing community service efforts, providing direct support to members, and developing an engaging video to offer hope to affected members.
In previous years, the firm has won the Grand All-Image Awards for its Honoring Those Who Served U.S. campaign with the Florida Department of Veteran's Affairs and the Walk in My Shoes campaign with Lauren's Kids.
Sachs Media Group is the go-to strategic communications partner for mid – to large-sized corporate, nonprofit, and government organizations with high-stakes challenges. Based in Florida with national reach, we've perfected the art and science of promoting issues, brands, and services. We believe in insight-informed strategy — doing the right things to reach the right audiences and achieve the right outcomes, measuring success the way our clients do. With headquarters in Tallahassee and offices in Orlando, Boca Raton, and Washington, D.C., our award-winning team has the experience, specialized skills, and bandwidth to treat each client's high-stakes issue as a top priority.