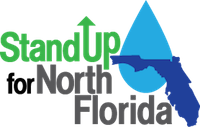 As water quality issues in Northeast Florida continue to grow, Stand Up
North Florida says state dollars are needed to find effective solutions.
As algae blooms in the St. Johns River continue to grow, Stand Up North Florida (SUNF) Chair former Congressman Steve Southerland and members of the SUNF Leadership Committee today called on the Florida Legislature to reserve funds for North Florida waterways. SUNF is a grassroots coalition formed to protect the vital water resources of the region.
"Our waterways are the lifeblood of Florida," said Southerland, who represented Florida's second congressional district in the U.S. House of Representatives from 2011 to 2015. "They are absolutely key to the health of our economy and to the high quality of life we enjoy. We urge the Legislature to give the same funding consideration to north Florida waterways like the St. Johns River as they have to building reservoirs and cleaning up the tributaries of South Florida."
"Time is running out in this year's legislative session, but it's also running out for North Florida residents who are being impacted by the growing algae blooms in the St. Johns River," said Maurice Langston, former Wakulla County Undersheriff and Chair of the Florida Council for Safe Communities. "Residents in North Florida shouldn't have to pay for the actions of folks further south. We need effective, commonsense solutions based on sound data, and we hope the Legislature does the right thing by taking steps to fund them."
For more information, please visit StandUpNorthFlorida.com.