Chief Financial Officer (CFO) Jimmy Patronis today joined Vice Chancellor of Keiser University Belinda Keiser, CEO and President of Volunteer Florida Clay Ingram, Bay County Sheriff Tommy Ford, and members of the Florida Legislature for the presentation of a $50,000 to Volunteer Florida's Florida Disaster Fund and the Bay Law Enforcement Assistance Fund (BLEAF) for Hurricane Michael recover efforts. The money was raised by students, staff and faculty over the past six months.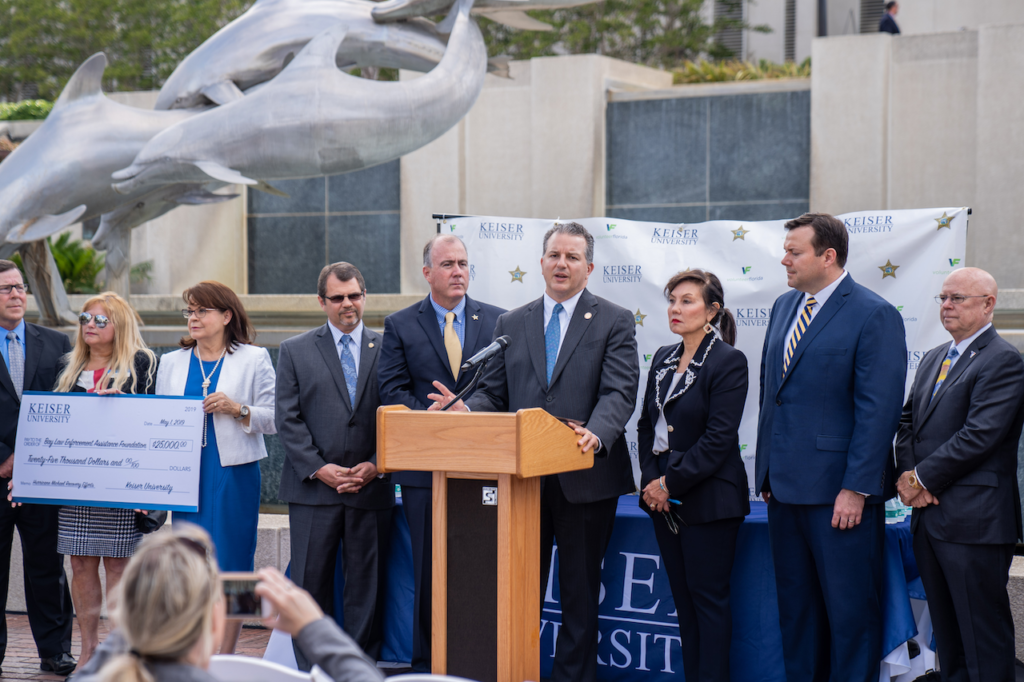 CFO Jimmy Patronis said, "I cannot begin to thank the folks at Keiser University for their generous donations to the Bay Law Enforcement Associations Fund and Volunteer Florida. This support is going to help families in the Panhandle area as we continue the process of recovery and rebuilding. Every dollar will make an impact for those piecing their lives back together."  
NOAA's National Hurricane Center officially upgrading Hurricane Michael to a Category 5 storm. This makes Hurricane Michael the first hurricane to make landfall as a Category 5 storm since Hurricane Andrew in 1992, and only the fourth on record.
About CFO Jimmy Patronis  
Chief Financial Officer and State Fire Marshal Jimmy Patronis is a statewide elected official and a member of Florida's Cabinet who oversees the Department of Financial Services. CFO Patronis works each day to fight insurance fraud, support Florida's firefighters, and ensure the state's finances are stable to support economic growth in the state. Follow the activities of the Department on Facebook (FLDFS) and Twitter (@FLDFS).