Attorney General Ashley Moody is praising the Florida Legislature for passing a bill that will strengthen the state's opioid litigation. The Florida Senate today on a 39-0 vote passed HB 1253, sending the legislation to Governor Ron DeSantis for final approval. The legislation will allow the Attorney General's Office to access limited information from Florida's Prescription Drug Monitoring Database to assist with the state's civil case against the nation's largest opioid distributors, manufacturers and pharmacies.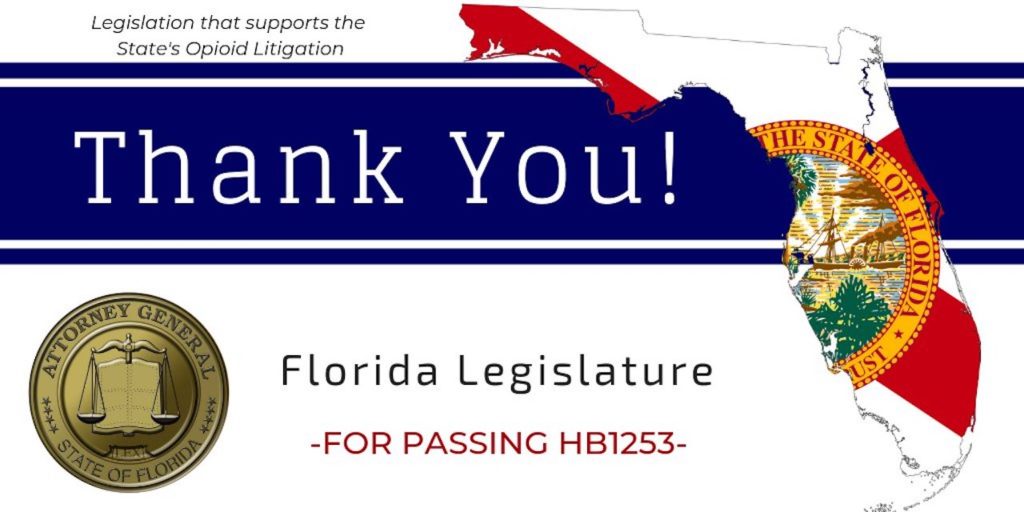 Attorney General Ashley Moody said, "Today, elected officials in Florida stand united in the fight to end the opioid crisis. There is not a corner of our state that has not been ravaged by the death and destruction caused by opioid abuse, and with this legislation we will make sure those responsible for fueling this deadly epidemic are held accountable.
"I want to thank Senate President Bill Galvano, House Speaker Jose Oliva, Representative Chris Sprowls, Senate Sponsor Tom Lee, House Sponsor Amber Mariano and each and every member that voted for this legislation. I also want to thank Governor Ron DeSantis for his support of this bill and our litigation to hold the nation's largest opioid companies responsible for their role in the national opioid crisis that is claiming 17 lives a day in Florida."
The limited information the legislation allows the Attorney General's Office to access will be used under protective order in the state's ongoing litigation against the nation's largest opioid companies to help further prove the corporations' roles in the crisis.