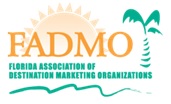 Statement by the Florida Association of Destination Marketing Organizations (FADMO)
Regarding the future of VISIT FLORIDA
"On behalf of local tourism promotion agencies across the state, we thank the Florida Senate and Florida House of Representatives for funding VISIT FLORIDA through June 2020, enabling the organization to continue promoting the state to potential visitors for an additional nine months past its current sunset date.
Tourism is an incredibly competitive industry. If Florida does not promote itself to potential visitors, other destinations that do promote themselves, such as California and Mexico, will benefit while Florida loses out on revenue and jobs.
The best way to ensure a vibrant tourism industry is through tourism promotion. Last year, a record 126.1 million visitors came to Florida. That doesn't happen by accident. Travelers have a lot of options and we need VISIT FLORIDA and local destination marketing organizations out there telling potential visitors about all Florida has to offer and why they should choose Florida as their next destination.
We look forward to using the next year to demonstrate the incredible return on investment VISIT FLORIDA provides, the value of tourism promotion for our state and the benefits this provides every Floridian."