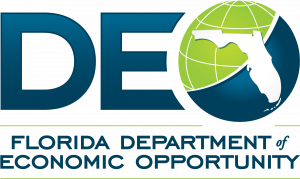 Florida Department of Economic Opportunity Executive Director Ken Lawson today issued the following statement in response to the passage of the 2019-2020 budget:
"On behalf of the hardworking and devoted staff of the Florida Department of Economic Opportunity, I would like to thank the Florida Legislature for passing a supportive budget that allows our team to help strengthen Florida's communities. This budget provides increased funding for rural communities, authority for our agency to spend critical dollars for long-term disaster recovery efforts and offer continued opportunities to enhance infrastructure and workforce training programs through the Florida Job Growth Grant Fund.  These priorities allow us to fulfill Governor DeSantis' vision for a better and brighter future for all Floridians."
About DEO
The Florida Department of Economic Opportunity combines the state's economic, workforce and community development efforts. This new approach helps expedite economic development projects to fuel job creation in competitive communities. For more information, including valuable resources for employers and job seekers, please visit www.floridajobs.org.